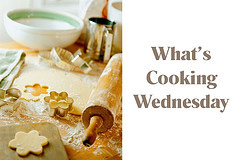 One of P's friends gifted us with five fresh quail the other day. I know. You wish *you* had friends like that, don't you?
I had never prepared or even eaten quail before, so after finding a recipe on the Interwebs, we got down to some quail business for What's Cooking Wednesday.
This was a great recipe, although we did change a lot to accommodate what we had in the house as well as our tastes. As you can see if you compare the two recipes, we cut the butter, used olive oil instead of vegetable oil, substituted rosemary for sage, and used little pre-prepared cubes of pancetta because that's what we had. And we also added garlic. But that's all we changed, I swear!
Overall, I have to say that if we get our hands on some quail again, I'll definitely make it this way di nuovo, and I hope you'll try it out too. These little birds were delicious.
Pan-fried Quail
(Quaglia in tegame)
5 quail
100 grams cubed pancetta
5 sprigs of rosemary
2 cloves of garlic, peeled
2 tablespoons olive oil
Salt
Freshly ground black pepper
1/2 cup dry white wine
1. Clean and rinse quail thoroughly (P did this part; hopefully yours are already cleaned). Pat dry with a clean towel.
2. Stuff each quail with a sprig of rosemary and some of the pancetta.
3. Heat oil in a frying pan, add garlic and let it cook for just a minute or so–don't let it even brown, then remove it.
4. Add quail and brown on all sides.
5. Season quail with salt and freshly ground pepper.
6. Turn the quail once, and then add wine. Once the wine has bubbled for a minute or so, lower the heat to medium, cover the pan, and let it simmer for another half hour to forty-five minutes.
7. Check on the pan so it doesn't dry out; if it does, add some water. You don't want dry birds.
8. Cook quail until the meat feels tender when poked with a fork.
9. Remove quail from the pan and then turn the heat back up to high. Add about 1/4 cup of water, and scrape up the good quail residual with a wooden spoon and let it mix with the water. Let the water come to a boil, and then pour these juices over the quail before serving.
Buon appetito!
16 Beans of Wisdom to "What's Cooking Wednesday: Pan-Roasted Quail"
---