The other night I was reading Penelope Green's See Naples and Die (thanks Leanne!), and in one part, Green's neighbor makes "pasta al forno siciliana."
Immediately I remembered the block of pancetta in the freezer, the fresh basil in the fridge, and the eggplants/aubergines that I had sitting upstairs.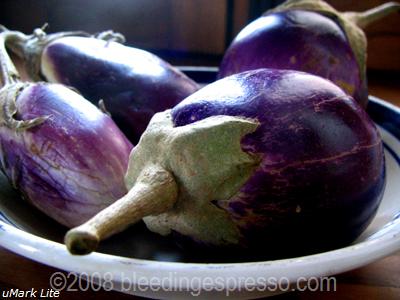 I found this recipe in Italian, although I used garlic instead of onions (personal preference), used two different cheeses instead of solely mozzarella inside the mix, and left out black olives (because I didn't have any). Even if you don't speak Italian, if you're going to make this, do click here. There are great step-by-step photos that I didn't feel the need to repeat since Haruka84 already did such a great job.
So, how did it turn out?
P, who is reluctant to try anything new even if it has all familiar ingredients, had *two* enormous helpings. As did I. And then the next day? P requested leftovers reheated for lunch–an honor previously reserved only for my Calabrian stuffed lasagna, so you know it must be good.
It's a bit time-consuming to put together (like most baked pasta dishes), but so very worth it, especially if you're having company (this recipe serves six).
Pasta al forno con melanzane
Baked pasta with eggplant/aubergines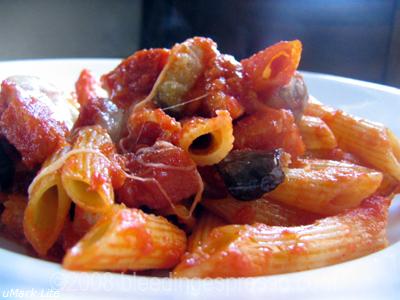 3 medium eggplants
200 grams of pancetta, cubed (optional)
1 large clove of garlic, minced
One large jar of tomato sauce or peeled tomatoes
3 large basil leaves
500 grams of short pasta like penne, rigatoni, or fusilli
One medium ball of mozzarella
Equal size ball of provola or your favorite mild, meltable cheese
Flour (optional)
Olive oil
Salt
Grated parmesan cheese
1. Cut eggplant into bite-sized chunks, place in strainer, and salt well. Let sit for about an hour. If you prefer to peel your eggplants, you can; I've made this both ways, and it didn't make a difference to me.
2. In the meantime, heat a tablespoon of olive oil in a saucepan and then add garlic and pancetta if you're using it. Let cook for a few minutes until pancetta has rendered its fat.
3. Add tomatoes and let simmer for about a half hour. Adjust for salt and stir in torn basil leaves.
4. Remove sauce from heat, cover, and set aside.
5. Start heating water for pasta, and preheat oven to 390°F/200°C.
6. Rinse eggplant in strainer, pat dry, and then dredge each piece in flour (optional — I've since done this without flour, and noticed no difference). Fry in a pan of hot oil (I use last year's olive oil). Remove when just brown, and let drain on paper towels.
7. When water is boiling, add salt and pasta, and let cook for about half the suggested cooking time listed on the package. Strain pasta and return it to the pot.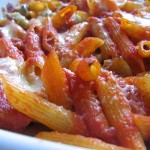 8. Stir just enough sauce into the pasta to keep it from sticking to one another.
9. Cover the bottom of a baking dish with a thin layer of sauce and then add half the pasta. Sprinkle in half the cheese and the eggplant.
10. Top with more sauce and then add the rest of the pasta, then the cheese and then some more sauce. Grate some parmesan on top for good measure.
11. Cover with foil, put in oven, and bake for 20 minutes or until pasta is done.
12. Let cool for a few minutes before serving, but not too long–you want that mozzarella nice and fresh and stringy when served.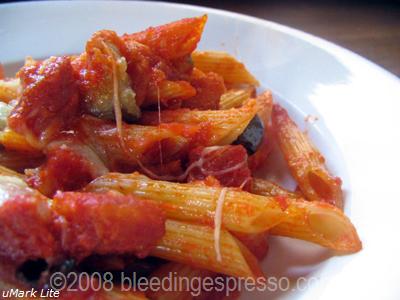 Buon appetito!
36 Beans of Wisdom to "Pasta al Forno con Melanzane – Baked Pasta with Eggplant"
---