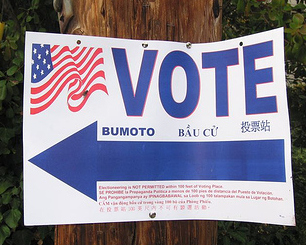 We interrupt today's regularly scheduled What's Cooking Wednesday (but do come back Friday for La Buona Cucina Americana and Mom's American as Apple Pie!) to remind Americans abroad who want their voices to be heard, from the US Department of State:
If you haven't received your ballot within three weeks of your state's ballot receipt deadline, and you are required to return your voted ballot by mail, you should complete, sign, date, and send in a Federal Write-in Absentee Ballot (FWAB).  Make sure it is witnessed, if required by your state.  If you subsequently receive your regular absentee ballot, execute it and return it regardless of when you receive it. Court decisions sometimes require late counting of ballots voted by Election Day, but received by local election officials for a specified period of time following Election Day.
How can you get a Federal Write-in Absentee Ballot?
You can find instructions here (PDF) at the State Department website, through the Overseas Vote Foundation here, or through VoteFromAbroad here.
Want something more interactive?
Check out this tutorial from the Overseas Vote Foundation:
And here is a great post from expat James at Wandering Italy on why he votes.
No excuses! VOTE!!!!!!!!
12 Beans of Wisdom to "important notice for americans voting from abroad"
---