I *loved* my grandmother's steak hoagies. They weren't exactly Philly cheesesteaks–they were better. Yeah, I said it.
The thing is, though, she used "Minute steaks," which we don't have here. Do you know them? Frozen, really super-thin slices of meat? Yes, it's one of those things you can kinda sorta substitute, but still . . . it will just never be exactly the same.
Anyway, I made today's What's Cooking Wednesday recipe based on my grandmother's original recipe, and we'll get to that in a moment, but for those interested, let me tell you quickly how she made steak hoagies (no measurements because that's the way she rolled):
Steam broken up pieces of Minute Steaks in a pan, remove and cover them.
Heat olive oil and butter in a pan and sauté peppers, then add onions as well.
Add meat and sprinkle everything with garlic salt.
Add a small can of tomato sauce and let cook until tomatoes no longer taste raw.
Stir in cheese (she used slices of Kraft American).
Serve on a big ole Italian roll. YUM!
Now, fast forward to my craving steak and peppers one night but having no tomatoes (fresh or sauce) or rolls in the house. This is what I made, a simpler, healthier, but still delicious version of an old classic:
Pepper steak over white rice
(serves 2)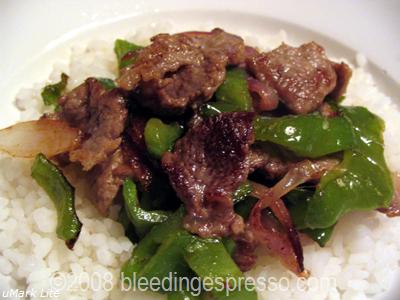 3 tablespoons olive oil
3-4 thin steaks, in bite-sized pieces
1 green pepper, cut into strips
1 medium onion, cut into strips
a few shakes of garlic salt
1 cup prepared white rice
1. Prepare rice according to package directions.
2. Heat two tablespoons of olive oil in pan, and then add meat, cooking until brown. Remove from pan and cover.
3. Add other tablespoon of olive oil and peppers. Sauté for a few minutes until starting to become tender and then add onions and sauté until tender.
4. Add meat and sprinkle everything with garlic salt, combining well.
5. Let flavors mix together for a minute or so, and then serve over white rice.
Buon appetito!
18 Beans of Wisdom to "what's cooking wednesday: pepper steak over white rice"
---