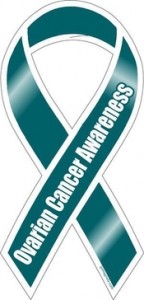 Right now I want to turn attention to just the facts ma'am–what all women need to know about potential symptoms of ovarian cancer and what exactly you should be asking of your doctor if you experience them.
Ovarian cancer has been called the "Silent Killer" because it often isn't discovered until it has spread to other parts of the abdomen; as you know from the facts from the Ovarian Cancer Research Fund posted in the O foods post, once ovarian cancer reaches later stages, the survival rate beyond five years drops to just 45%. When detected and treated early on, though, the five-year survival rate from ovarian cancer is greater than 92%.
But ovarian cancer isn't silent! As many ovarian cancer awareness organizations say, "It whispers–so listen!"
Here are some common signs and symptoms of ovarian cancer:
Vague but persistent and unexplained gastrointestinal complaints;
Pelvic and/or abdominal swelling and pain; bloating and/or feeling of fullness;
Unexplained change in bowel habits;
Frequency and/or urgency of urination;
Unexplained weight gain or loss;
New and unexplained abnormal postmenopausal vaginal bleeding.
If these symptoms are sudden and persist for more than 2 or 3 weeks, consult your gynecologist. A full pelvic exam, including the rectovaginal component, is the best screening method for ovarian cancer, and another test is a transvaginal ultrasound. Be sure to tell your doctor about your symptoms so she knows exactly what she should be looking for.
Ovarian cancer risk factors include:
Peri- or postmenopause;
Uninterrupted ovulation (no pregnancies and no prior use of oral contraceptives);
Family or personal history of breast/ovarian cancer;
Presence of BRCA1 or BRCA2 gene mutations.
The following may aid in prevention:
Use of oral contraceptives for 5+ years;
Multiple pregnancies/breastfeeding;
Removal of ovaries or tubal ligation–these procedures may reduce but not eliminate risk.
For a handy guide to the signs and symptoms, risk factors, and prevention of ovarian cancer, print out the Ovarian Cancer Research Fund's tent card (from which the above facts come). Better yet, print out a stack and hand them out to all the women in your life!
And here are some more ideas on what you can do for Ovarian Cancer Awareness Month.
Tomorrow, another O recipe!
8 Beans of Wisdom to "Ovarian Cancer Awareness Month: Signs & Symptoms"
---