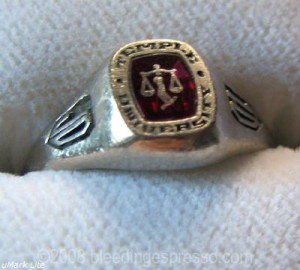 When my mom came to visit in June, she brought my "good" jewelry that I had left behind. One item was my law school ring, pictured at left, which I actually only got because my grandmother begged me to let her buy it for me as a graduation gift.
I told her I wouldn't wear it much, but she didn't care. She just wanted me to have it.
So I agreed, and then I saw how much they cost. Yikes!
I couldn't possibly let her spend that much on a ring (think law school ring versus household bills for a couple months–on a fixed income), so I told her the price was half of what it was, and I chipped in the rest. By the way, she passed away two weeks after I found out that I had passed the bar exam in October of that year, and I've always felt she waited to hear the good news (which, incidentally, arrived on my 25th birthday) before leaving us.
When I saw the ring this summer, I was reminded of all that surrounded it–my grandmother; her love, support, and generosity; my many years of hard work; and lots and lots of stress overcome–so I decided to wear it. Seeing it there on my hand every day reminds me of where I've been, the love and support I've had and continue to have, and also what I've accomplished.
And it feels darn good.
A couple weeks after I started wearing it this summer, I saw an opening at About.com for the Guide to Law School. Ah, law school . . . been there, done that, and confident that I could write about it and help others like me who had *zero* frame of reference for what they were about to encounter, I applied.
Literally a few hours later, I was thrust into the About.com "training," which is really a several-week long interview process during which applicants put together a site hoping to be chosen at the end.
Well they picked me! You're now reading the personal blog of the About.com Guide to Law School.
And yes, I continue to wear my ring. Since my grandmother passed away, I've thought of her every day anyway, but now I feel just a little bit closer too.
Do you have a good luck charm?
49 Beans of Wisdom to "meet the newest about.com guide!"
---