A hearty welcome to one of my favorite bloggers, Robin of My Mélange! In this guest post, Robin does a great job of letting you know who she is, what she does, and why she does it, so I'll just let her get on with it. Thanks so much for writing Robin!
P.S. Be sure to come back tomorrow for an exciting contest announcement!
—————
Imagine yourself gliding along the azure blue water in a gondola, pulsing up and down with the to and fro of the wake along a quiet side canal in Venice. Ducking under a footbridge while the clip-clop of pedestrian heels permeate the silence, ocher and putty plaster worn away from old facades lining the canal, colorful laundry blowing in the breeze overhead and glorious red geraniums blooming on tiny iron balconies, while you are sipping Prosecco.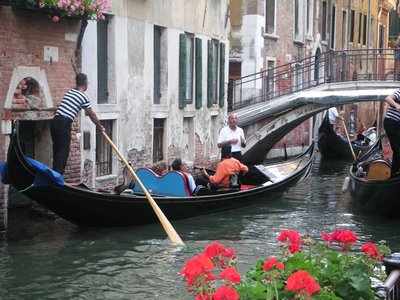 What about twisting and turning through the dusty, narrow, Tuscan roads graced with tall green Cyprus trees standing like soldiers guarding the fertile soil and protecting the vineyards and grapes, sampling the fruit of Tuscan labor, at an ancient stone winery, set high atop the lush green hills of Chianti.
Or strolling the quais of the Seine in the dark of night, crossing the Pont des Art, resting my arms against the cold iron railing, staring into the black water, watching the glowing reflection of the streetlights and backlit historic monuments stare back at me. They appear before me like a painted canvas, the center of the portrait, the sepia-toned star in the Paris night sky, the Eiffel Tower, dazzles with its hourly show and leaves me speechless.
As the clouds roll in, mist falls gently onto the cobblestones, I tighten my Chanel trenchcoat and fluff the scarf around my neck as I walk slowly toward a welcoming sidewalk café for shelter and to grab a ringside seat on the covered terrace. From my tiny marble table and caned seat, I sip a cup of strong French coffee to take the chill off my bones while I settle in to watch the rest of the scene further unfold around me.
Hooked? Yeah, I was too. Still am.
When I close my eyes, these are the images and videos that flood my mind's eye and the memories that come rushing back when I think of Europe; of my twin passions: Italy and France.
I have developed a passion and deep abiding love for these countries that now hold a piece of my heart, and won't let go.
I am reminded of the moment I first stepped foot on the terra firma of Italy. It was a life changing moment. Something unexplainable came over me. My heart felt full and my spirit alive. For the first time in my life, I felt like I was home, right where I belonged. And like Cinderella's slipper or meeting your soul mate- it just felt right, comfortable, a perfect fit.
You see, I didn't plan to fall in love with them. In fact, I have no roots in Italy or France. My ancestors are Irish and German. Before I took my first trip to Europe, I had no strong desire to spend time there. Didn't see the point. We can thank Frances Mayes and the movie industry for turning that around.
From the time I returned from that first trip, and each subsequent trip, I missed every second that I was away. In fact, aside from living there, which with any luck and hard work will happen within the next five years, I was determined to find a way to adopt many of things I loved so much, and introduce them into my daily life. I realized that though I wanted to live there, it was not necessarily about the location, as much as it was the lifestyle.
So, I made it my quest to find ways to live life like a European.
I began by tossing out the Mr. Coffee and Maxwell House and bringing in the Bialetti and espresso, replaced my Pottery Barn furnishings with Euro-trash style flea-market finds, stocked up on cookbooks with authentic French and Italian recipes while experimenting with new dishes, drinking wines from across the pond, seeking out imported products, reading any Franco-Italian memoirs I could get my hands on, played lots of Bocelli and Charles Trenet on the CD player, and I perused my photo albums for inspiration when I was feeling, well, homesick.
I started feeling like I could help others find the same love and passion that I have for Europe. So, Mélange was born. Mélange, which is a French word that means a mixture, was not only the perfect name for my endeavor, but would become a multifaceted way for me to share my passion, harness my creativity and show people how you can either travel to Europe or bring bit and pieces of the culture into your everyday life, so that you could feel like you were enjoying the European lifestyle–on a budget, of course.
Because I get bored easily, and don't like to put all my eggs in one basket, I had always imagined Mélange to consist of many things: travel planning and consulting, a flea market selling small European finds, photo cards (coming soon!), a blog, and have kept an open mind to whatever else might present itself.  Perhaps freelance writing and intimate seminars.
I started the blog, My Mélange, in December of 2006, not knowing much about blogging or writing or where it would take me. Almost 2 years later, I consider it my baby.
It is a way to connect with people from all over the world and talk about my twin passions with them. I share my favorite stories and photos, hotel recommendations, restaurant suggestions, my trials and tribulations about learning the Italian language and it allows me a forum to suggest ways to create some European savoir-faire in your own life. And travel, lots of travel! Travel tips, travel gear, and travel destinations. You can even submit your favorite travel photos to be featured for Travel Photo Fridays!
I now appreciate that my blog is a helpful resource for those who prefer to plan their own trips or those looking for information and inspiration. However, I also enjoy being the person who is there to plan a customized trip or itinerary for those who don't have the time or desire to go it alone.
So whether you live in Europe or elsewhere in the world, have a love of France or Italy (or both), dream about traveling there or just want an armchair tour, want a new French recipe or learn a new Italian word every day, then grab a bowl of café au lait and head on over to My Mélange, settle in and take a good long look around. Hopefully you'll find something that inspires you, and if I have done my job well, when you are finished, not only you will share my passion for the European culture and lifestyle, but you'll run right out and book a trip of your own!
And until my body gets to live where my heart and soul already does, I will rely on my dreams, my imagination, my blog, my work and I will live vicariously through ex-pat friends, like Michelle, to get me through.
Thanks Michelle!
17 Beans of Wisdom to "Guest Blogger: Robin of My Mélange"
---