Ever since I published these photos, I know our good friend Gil has been wondering about whether the prickly pears (fichi d'India) are ripe, and well, I'm happy to announce, the time has arrived (see left)!
So for today's What's Cooking Wednesday, a quick lesson in prickly pears.
The prickly pear, or fico d'India in Italian, is the fruit that grows on the end of cacti like in the photo. Those of you in southwestern US and various other hot, cactus-bearing places know this fruit well, I'm sure, but for the rest of you, the most important thing to keep in mind:
DON'T TOUCH THESE WITH BARE HANDS.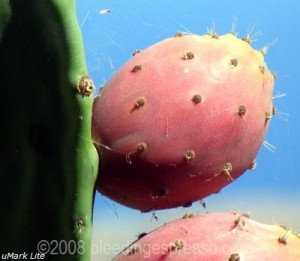 Yeah, the "prickly" in the name might have given you that clue, but it's not what you think. It's not the spines on the cactus that are prickly, it's the tiny, nearly invisible hair-like spines that are *all over* the fruit that cause the trouble–and they are nearly impossible to wash off of you once they're on. Trust me. It's like having pins and needles all over your hands, and so not fun.
Now, I'm not going to lie to you. I don't clean these. This is P's job, and although some people soak them in water beforehand is advisable, I've never seen him do it. He's just really, really skilled with a knife, but I still suggest you wear gloves and watch this video to see some pros at work.
For those of you who aren't familiar with prickly pears, you're probably wondering what they taste like. Well, um, they're unique. They're sweet but not too sweet, kind of a cross between a fig and, I don't know, a plum maybe?
One thing I can say is that they are very seedy, and no, I don't mean like from a questionable part of town, I mean like this: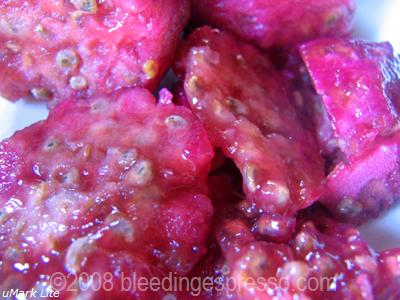 And truth be told, this is my favorite way to eat them. Fresh, seeds and all.
Another popular way to prepare them is in jams or marmalades; you'll find countless recipes for those with a quick Google search.
But for some unique recipes, check out these from fellow bloggers: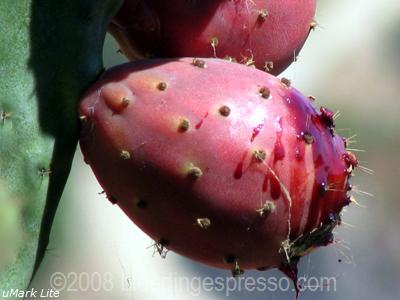 Buon appetito!
32 Beans of Wisdom to "The Skinny on Prickly Pears – Fichi d'India"
---