This week's What's Cooking Wednesday recipe comes straight from my Italian-American grandmother, who introduced me to alcohol by offering me a peach slice that had been soaking in red wine for goodness knows how long. I don't know how old I was, but I do remember having to look *up* at the kitchen table to accept said peach slice.
To be fair, I was always smallish.
Peaches in red wine are a great simple summer dessert after you've enjoyed a fabulous meal and want the party to last just a little bit longer. They are also great as an afternoon pick-me-up, and depending on the strength of the wine, this could pick you up *and* spit you out. But you'll enjoy every moment!
So the ingredients this week are few–no, not even, they're couple.
Peaches Soaked in Red Wine or Drunken Peaches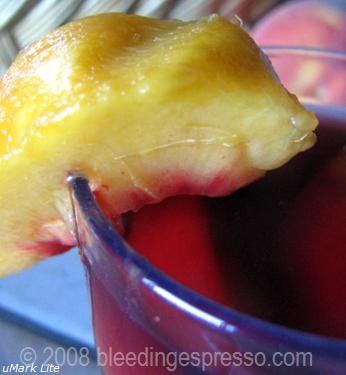 1. You need some red wine; if your father-in-law makes it like mine does, all the better.
Kindly note of our fancy wine glasses. Yes, they are Nutella glasses. You see, we're paesani and real wine glasses rarely make it out of the cabinet.
2. You need fresh, ripe peaches.
For those of you who don't like peaches because of the fuzz, this recipe is for you since I recommend peeling the peaches before soaking.
Peel, remove the pit, slice, and place in a glass of red wine. Let soak for as long as you can stand it. I usually leave them in the wine for about 10 to 20 minutes.
3. Enjoy each delicious slice one at a time with sips of wine in between if you like.
Notice, as well, our fancy plastic plates. What you see is what you get, faithful readers — there ain't no fancying up peaches soaked in red wine in this house.
But they're still pretty, don't you think?
Tasty too.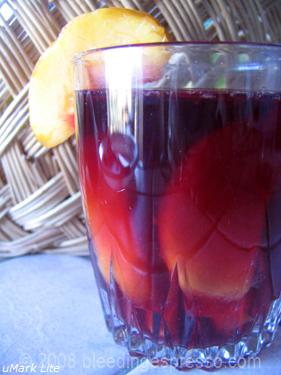 Buon appetito!
Do you soak your fruit in alcohol? Do tell!
34 Beans of Wisdom to "Peaches Soaked in Red Wine a.k.a. Drunken Peaches"
---