Let's hear it for pears!
I got a plate of 'em from a neighbor, so I went looking for a way to enjoy these lovelies instead of just eating them one after another after another, etc.
So I found this recipe for Pear, raisin and gorgonzola salad, and when I saw there were pecans involved too, I knew this would be the base of this week's What's Cooking Wednesday recipe. Be sure to check out all participants at Shan's Tales from the Fairy Blogmother!
I know. My fellow expats in Italy are thinking, "Now where did she find pecans?!"
The answer is "in my mailbox!"–a gift from the lovely Litlequeen. I've been rationing them for months.
By the by, if you don't have or don't like pecans, you can substitute your favorite nut, of course.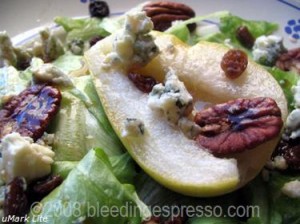 Now, this is a salad for those of you who enjoy nuts and fruits mixed in with your greens — unlike P who will only eat lettuce, olive oil, red wine vinegar or lemon and salt (not even with tomato!) and call it a side dish. Whatev.
I just used whatever lettuce I had in the fridge, but this would be great with spinach and/or arugula/rocket as well. Also feel free to experiment with the fruit; dried cranberries would go fabulously but I was too lazy to dig out the bag my mom sent me. Yes, I'm very spoiled.
I haven't included measurements for the salad as I've left you room to play with the ingredients to suit your tastes.
More lettuce for you? Have at it! Crazy for raisins? Pour 'em in!
Aren't salads fun?!
If you look at the recipe I based this dish on, you'll see I made quite a few adjustments. Most notably, I didn't caramelize the pecans. I figure if I'm trying to be healthy and eat a salad, why throw in extra sugar and butter (as much as I love them, and I do)? But if you'd like to, check out the directions on the recipe page.
Another note is that I invented my own dressing; I didn't have the orange the recipe called for so I just scrapped the whole dressing recipe as written. I hope you'll feel free to experiment as well. There are lots of great vinaigrette recipes out there, but since they revolve around similar ingredients, one day when you're feeling adventurous, come up with your own and then come back here and share it, OK?
Now, the recipe.
Pear, Gorgonzola and Pecan salad
with Lemon Basil Vinaigrette
For salad:
Salad greens of your choice
Pears, washed, sliced in half and cored
Gorgonzola cheese, crumbled
Raisins
Pecans
For dressing*:
2 tablespoons freshly squeezed lemon juice
1/2 teaspoon honey
1 tablespoon balsamic vinegar
1 tablespoon olive oil
salt to taste
* This makes enough dressing for about 2-3 salads depending on personal taste and the size of the salads.
1. In a small bowl, mix together lemon and honey until honey is dissolved.
2. Stir in vinegar, then oil, and adjust for salt and other ingredients.
3. If making individual salad plates (recommended), assemble as shown in the photos with pear sliced in half lengthwise and cored placed in the middle of the plate–or any way you like really. It's your salad!
4. Be sure to brush the pear slices/halves with lemon juice so they don't brown before serving.
5. I would also recommend serving the dressing on the side at the table but that's personal preference. If you're adding it to the plates, serve immediately so things don't get soggy.
Buon appetito!
What's your favorite/signature salad?
And if you have a favorite pear recipe, please share in the comments!
37 Beans of Wisdom to "Recipe: Pear, Gorgonzola and Pecan Salad"
---