Continuing on with answering questions, I've grouped together ones that address how I got to Italy, what I miss and whether I see myself moving back to the United States.
First, I'll talk about how I got here for Sparky Duck of Philly Transplant, Chel of Chasing Contentment and Stefanie of Stefanie Says (who asked how I got to *this* village specifically).
I've written about my decision to move to Italy in You Say Goodbye, I Say Hello, and I'm not sure I can do better than that, so I'll direct you there. The short answer to how ended up here is basically that I wanted to come, but I do hope you'll read my more thought-out response by clicking on the above link.
How I ended up in this particular village is more fully addressed in House of Violets, which explores the many signs that I received from the universe telling me I was on the right path by moving here. As you might imagine from the post title, violets were involved.
Both of these posts, by the way, are some of my favorites that I've written, so please do check them out if you have some time.
Oh, and Chel also wanted to know where I grew up in the States. The answer is that I'm a proud coal cracker from the heart of the Anthracite Coal Region in Pennsylvania, which you can read more about at CoalRegion.com.
Someday I'll tell you all about cruisin' Shamokin, working at Knoebels Amusement Resort (the K is *not* silent) and our own version of Friday Night Lights over some Vitamin Y if you like der butt.
And if you think I came halfway around the world and *didn't* bring a few pieces of anthracite with me in a mini coal bucket, holy cripes, you're crazy in the head!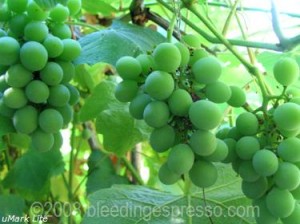 Now, Thotlady and Paul of Crazy Like Whoa would like to know about missing the States. Thotlady wrote "I am sure you get homesick for family and familiarity. But do you 'deep down' miss the states?" whereas Paul is looking for something more specific that I miss.
To put this in perspective, I've been living in Italy for nearly five years (my anniversary is at the end of August), but don't hate me, Americans: I really don't miss the States.
As Thotlady said, I definitely miss family and also friends and being able to spend physical time with the people I love (especially my niece and nephew) but there is nothing really intrinsic about life in those United States that I miss.
Perhaps a few years ago, I might've said something about the differences in bureaucracy, 24-hour stores, certain fast food, but really? Eh. Life is what you make of it no matter where you are, and I'm really, truly happy here. I don't spend too much time thinking about "But in the US…" because it's not helpful to anyone–least of all to me. I'm not saying Italy is perfect by any means (talk to me when I have to wait in line to pay a bill at the post office!) but I've learned to love my adopted country, wrinkles and all.
That said, you know what I do kind of miss, Paul, that falls outside the family and friends category?
Waking up on a gorgeous, sunny (humidity-free–it could happen!) Philadelphia weekend morning in my quaint (rented) row home that I *loved*, walking up to the corner for a *big* (maybe flavored) coffee and powdered (Tastykake) donuts and then going home and settling in to read a huge Inky from cover to cover. And then doing the crossword puzzle.
I also miss going to Phillies games. And walking around the Italian Market. And spending hours in the Philadelphia Museum of Art and Borders.
So yes, there are *some* specific, uniquely USian experiences that I still do miss, or at least Philadelphian ones.
I suppose it'd also be nice to have the choice to flit to NYC, Boston or DC for the weekend as well, but Rome, Florence and Sicily aren't shabby options either.
And finally, NYC/Caribbean Ragazza, herself a recent transplant to the Bel Paese, asked whether I see myself moving back at some point.
Only if dragged kicking and screaming to the plane, cara.
I know, mai dire mai (never say never) but I *can* say that I'm staying put for the foreseeable future. Italy definitely isn't the place for everyone, but it certainly is for me. How do I know that? Cheesy though it may be, I feel it deep within my very core, and I've felt it from the first time I set foot in Calabria in 2002.
And I'm smart enough not to argue with my core.
Thanks for reading!
Be sure to come back next Monday for more answers to readers' questions!
Have something you want answered? Ask in the comments!
34 Beans of Wisdom to "how i ended up in italy, what i miss and when i'll be leaving"
---