Oh dear, this has been a long time coming. I was going through some old files on my computer and realized that there were some reader questions that I had promised to answer *a long time ago* but haven't yet.
Well that's all going to change today. And tomorrow. There are enough to cover two posts, so stay tuned for more answers on the morrow as well.
And in the meantime? It's time to open up the floor to more questions, so feel free to ask what you like in the comments, and I'll promise to try to answer them within the next year or so. Kidding! Sort of.
Now, I hope you're not hungry because these happen to all involve food—one of my very favorite topics!
But before I get to the answers, have you happened to catch my recent submissions on some of the "food p*rn" sites like TasteSpotting (Caprese salad and zucchini flowers), Photograzing (Pesto on tomato) and FoodGawker (Uova alla Pablo)? Woohoo! Have you been using these sites? Similar ones that you enjoy?
Ahem, the questions and answers:
(1) Sara of Moving Right Along asked about my favorite biscotti recipe.
Come in close.
Closer.
Ever so closer.
I've never made biscotti.
I know it seems insane coming from an Italian-American background, living in Italy, having a mean sweet tooth and being fond of the kitchen (and eating), but honestly? Biscotti just isn't one of my favorites, and I tend to stick to my favorites when I'm making things.
That said, this recipe for Mosaic Biscotti featured on Sara's Ms Adventures in Italy and adapted from Gina DePalma's Dolce Italiano will definitely be the one I try first.
(2) Karina of Candid Karina asked, "What are your top 3 recipes that you KNOW you have mastered, and love how they come out?"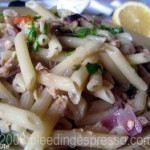 My no fail dishes are Calabrian stuffed lasagna (my mom, not a big lasagna fan *loves* this), pasta with tuna (with lemon (at right) or with tomatoes), and, since I am still an American, cheeseburgers, which I have yet to write about on the blog. Seriously, P loves them even though he won't even try a hamburger made by anyone else.
(3) Tina of Tina's World asked: "How do you like your gnocchi, if you eat them?"
Oh do I eat them Tina; they are absolutely one of my favorites! I've had them in all kinds of creamy sauces from gorgonzola to vodka-based, but you know what I like best with them? A basic tomato sauce, heavy on the basil. YUM.
(4) Michelle of Scribbit wants to know my favorite food. "Living in Italy where I dream of the cuisine you must get I could live vicariously," she wrote.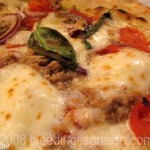 Well, I love different foods for various reasons—some like my favorite chocolate cake is just so delicious that I can't imagine a world without it. That one also has sentimental value because my mom made this every year for my birthday growing up.
Other than that, as cliché as it is, I really love a great pizza. I love it plain (Margherita baby!) and with all different kinds of toppings from tuna and onions (pictured above at left) to prosciutto and porcini. Just. So. Good.
OK, that's all for today. Be sure to come back tomorrow for more answers to questions asked a very long time ago, and be sure to leave your new questions in the comments!
26 Beans of Wisdom to "(almost) everything you always wanted to know about me (part the first)"
---