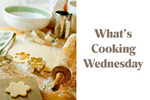 One of the best parts of having my mom here is a built-in buddy for market–hopping–and I'm talking about every market within a 40 kilometer radius.
Of course we're having lots of fun in our travels, but all this marketing also means we've been enjoying even more fresh fruits and vegetables than usual…more hands to carry market booty! Woohoo!
As you probably know, I love tomatoes. So for today's What's Cooking Wednesday I'm sharing my absolute favorite way to enjoy fresh summer tomatoes (those in the US especially, be careful about salmonella right now!).
Here they are paired with "le cipolle rosse di Tropea," the famous red onions from Tropea, a gorgeous town on the Tyrrhenian Sea, which is on the other side of Calabria (for those who don't know, I'm on the Ionian Sea). These onions are some of the sweetest red onions in the world and are well-known not only in Italy but also throughout Europe–if you're here, be sure to give them a try!
A tomato and red onion salad is a quick, easy, refreshing, delicious dish that is great at midday when the last thing I want to do is turn on the stove. It is dressed simply with olive oil, fresh basil, oregano and salt, and you're welcome to throw in whatever other veggies you like; we especially enjoy cucumbers in this.
Along with the salad, P and I usually have something else uncooked with it, often local suppresata, cheese and bread but this is another favorite: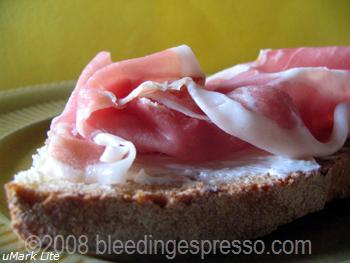 Bel Paese cheese spread on bread topped with prosciutto crudo
Doesn't get any better than this after you've enjoyed a morning at the beach.
Tomato & Red Onion Salad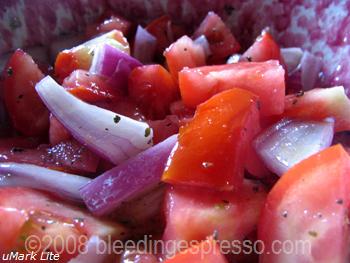 3 large tomatoes cut into bite-sized chunks
2 small red onions from Tropea, sliced
Olive oil, fresh basil, oregano and salt to taste
The longer you let the flavors mingle, the better this is, so I recommend making it early in the morning for lunchtime.
Buon appetito!
22 Beans of Wisdom to "What's Cooking Wednesday: Tomato and Red Onion Salad"
---