Drawing inspiration from Cherrye's recent Pazzi for Porcini post, this week's What's Cooking Wednesday dish is Pennette alla boscaiola, pasta with porcini mushrooms, pancetta, and heavy cream. It's supposed to have prosciutto cotto (cooked ham) in there too, but I got to the store too late and the slicing machine was already cleaned. Next time.
You should know that P and I both love mushrooms. He loves them so much that he goes out looking for them. He's brought me itty bitty ones like this and monster 'shrooms like this: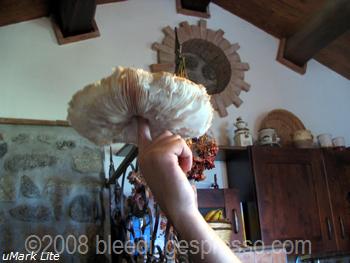 And on *really* good days, he makes my kitchen table look like this: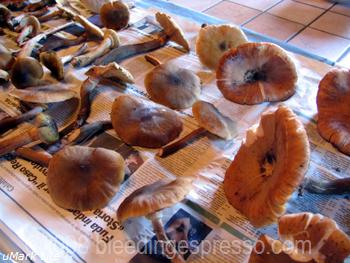 All the above photos are from the fall, prime mushroom picking time. For this recipe, I used dried porcini, which are truly lovely, especially since you get the added bonus of using the liquid you used to reconstitute them.
In fact, from the original recipe (in Italian), I cut out the butter and used liquid from the porcini instead. This dish is a *big* winner in our casa. So fast, easy, and delicious . . . a new favorite!
Pennette alla boscaiola
(Penne pasta with porcini, pancetta, and heavy cream)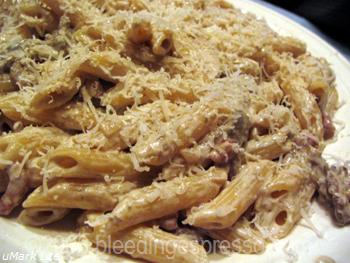 Dry pasta (I recommend penne/pennette or tagliatelle/fettucine) for two
30 g (about 1 oz) of dried porcini mushrooms
1/2 to 2 cups water to reconstitute mushrooms
3 tablespoons olive oil
1 small onion, chopped
150 g (about 5 oz) of pancetta, diced
200 ml (about 3/4 cup) heavy cream
50g (about a 1/4 cup) of grated cheese
Salt to taste
1. About an hour before you'll start cooking, put dried porcini in bowl and cover them in water.
2. When you are ready to cook, put the pasta water on to boil.
3. Use a fine strainer to drain mushrooms, placing another bowl beneath the strainer to catch the water; you'll need it. If you want to chop the porcini into smaller pieces, do so now; I just leave them as is.
4. In a pan large enough to hold the pasta as well, heat oil over medium heat and then add onion. Let sauté for a few minutes until starting to turn translucent.
4. Add pancetta and let cook for a minute or two.
5. Add mushrooms, about 6 tablespoons of the porcini water, and salt and let cook on low-medium heat for about 15 minutes. If you see that it's starting to get dry, add porcini water as needed.
6. In the meantime, prepare the pasta so that it's still rather al dente (it will cook some more with the cream) and drain.
7. Test porcini mixture for salt (if necessary, add more), and then add pasta to the pan, giving it a few turns with a wooden spoon to combine with the pancetta, mushroom, and onion mixture.
8. Make sure the pan is on low heat and add cream, stirring to combine everything.
9. Sprinkle in cheese and stir until mixed in well.
10. Serve hot with extra grated cheese.
Buon appetito!
35 Beans of Wisdom to "What's Cooking Wednesday: Pennette alla boscaiola"
---