Mom is here, and I'm happy to report that things are going swimmingly (although no, we haven't been to the beach yet). Even though it's been four years since we've been in the same room, it feels like no time has passed at all. Don't you just love that?
We're off today for some market action and then to see Cherrye in Catanzaro, but not before I share a recipe with you.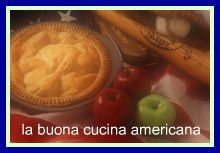 Particularly since my mom is certainly one of my biggest cucina influences, it's rather fitting that for this round of La Buona Cucina Americana, I'm lucky to have her here helping.
I knew we'd have to make one of my very favorite dishes that remind me of home aka L'America, and that, amici miei, is Macaroni and Cheese. Mac 'n Cheese. Whatever you like to call it, my mom's has just six steps and six ingredients: pasta, cheese, milk, butter, salt and love.
I swear to you I could eat this every day of the week and twice on Sunday.
And if that doesn't convince you how good this is, get this: even picky (read: non-American-food-eating) P loves it! Yeah!
There is an infinite number of variations on this–I've been known to spice this up with pancetta and onions, put sliced tomatoes on top and then bake it–but what I'm giving you here is the way my mom makes it, the easy stove top version, ready in just minutes.
And *of course* you can play with the cheese(s), but it may surprise you just how good this version is with plain old "white American" slices (either Kraft or fresh sliced for those of you in America).
Also, happy 3xth birthday to my brother from all of us on this side of the pond–no cake, but, um, you're welcome to some macaroni and cheese!
Macaroni and Cheese
(serves 4 as main course; many more as side dish)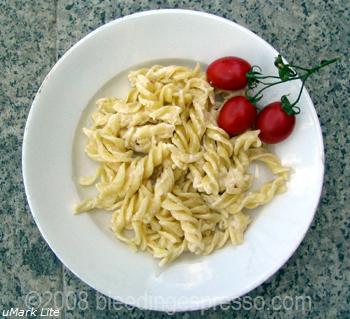 4 cups fusilli or penne pasta
2 tablespoons butter
1/2 c milk
4-5 slices of white American cheese, Kraft for example
salt to taste
lots o' love
1. Prepare pasta in salted boiling water and remove when rather al dente.
2. In the meantime, in a pot big enough to hold all the pasta, melt butter and then stir in milk and cheese torn into pieces on low heat.
3. Drain pasta and add to milk mixture, stirring well to coat.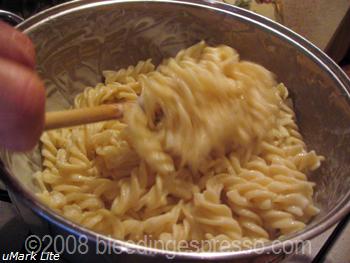 4. At this point, adjust for all the ingredients and salt (and love!).
5. It is ready when the cheese has melted completely.
6. Remove from heat, cover and let sit for three to five minutes before serving.
Maccherroni con sottilette
(per 4 persone come primo piatto; di più come contorno)
250 g fusilli o penne
28 g burro
125 ml latte
4-5 fette di sottilette
sale q.b.
tanto amore
1. Mettete al fuoco alto la pentola con l'acqua salata e portatela a ebollizione; quindi buttate la pasta e fatela cuocere piuttosto al dente.
2. Nel frattempo fate squagliare il burro in una pentola abbastanza grande per tutta la pasta al fuoco lento. Agguingete il latte e le sottilette a pezzi.
3. Scolate la pasta e rovesciatela nel recipiente del latte, mescolando bene.
4. A questo punto controllate per tutti gli ingredienti e sale (ed amore!).
5. Il piatto è pronto quando le sottilette sono completamente squagliate.
6. Togliete dal fuoco e portate in tavola ben caldo nello stesso recipiente di cottura. Copritela e fate riposarla per circa 5 minuti prima di servirla.
Buon appetito e buon weekend!

32 Beans of Wisdom to "la buona cucina americana: macaroni and cheese"
---