Welcome to the last stop on the From Russia With Love tour of Moscow led by guest blogger, Tamara of American Girls in Moscow.
On Monday, we visited Gorky Park, Tuesday was Sparrow Hills and Victory Park, Wednesday was Novodevichy Monastery and yesterday was the Cathedral of Christ the Redeemer and Alexander Gardens. Last stop? Coming right up!
Seventh (and Final) Stop: Red Square
Our tour now comes to an end at the very heart of Moscow—and Russia, Red Square. By now you're probably tipsy from all the champagne you've been drinking in the limo, but straighten your hair and hold on for just a bit longer! You can see GUM department store on the left, St. Basil's straight ahead, and the Kremlin to the right.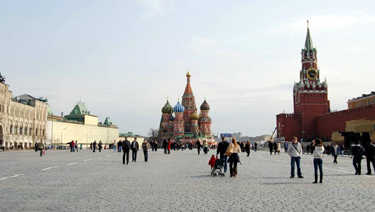 EVERYONE who visits Moscow takes this picture… As do many newlyweds. You can see some of my favorite pictures of St. Basil's Cathedral here.
GUM department store is another beautiful and historic spot for photographs. Completed in 1893, the halls have certainly seen changes during the end of Czar Nicholas II's rule, the 74 years of the Soviet Union, the turbulent first steps toward building a capitalist economy and democracy, and the opulent decadence of Moscow's ultra-rich who now frequent the high-end designer boutiques inside.
You might wonder why there haven't been pictures of brides during this photo essay of where they stop to get their pictures taken… I just can't bring myself to intrude on their big days. They're already surrounded by friends or professional photographers; it would be so rude of me to try to take pictures, too… My goal as I grow as both a blogger and photographer is to take more pictures of people; such pictures can tell rich stories…
I leave you with this bride; she was waiting for the photographer to finish setting up across the walkway. Join me at American Girls in Moscow any time; I really enjoy sharing my adopted city with others who haven't been here!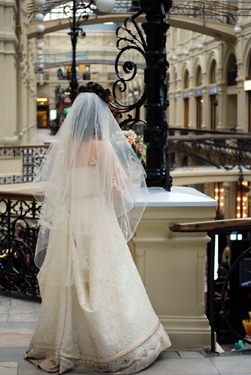 A *HUGE* thank you to Tamara for compiling this photo tour, and to everyone, be sure to visit Barb of Art and Barb Live in Italy for this week's La Buona Cucina Americana recipe: Cole Slaw!
And buon weekend!
2 Beans of Wisdom to "guest blogger: tamara of american girls in moscow (part V)"
---