Here we are on Day Four of the From Russia With Love tour of Moscow led by guest blogger, Tamara of American Girls in Moscow. On Monday, we visited Gorky Park, Tuesday was Sparrow Hills and Victory Park, and yesterday was Novodevichy Monastery. Ready for today?
Fifth Stop: Cathedral of Christ the Redeemer
Our tour is now winding down… We'll drive the short way back up the river towards the Kremlin, stopping at this imposing white and gold cathedral.
The original structure was actually blown up on Stalin's orders in 1931 and the site was occupied by an outdoor swimming pool until the Mayor of Moscow decided to rebuild the cathedral in 1994.
This church welcomes the "Who's Who" of Moscow on important religious holidays and the very famous often get married here. Everyone else is welcome to attend services and pose for pictures outside.
The ornate bridge behind the cathedral is a very popular place for photographs. On one side you can see the Kremlin; on the other is the House on the Embankment (a residential house built by Stalin—whose notable inhabitants often disappeared during the night during his infamous purges), the Red October chocolate factory, the ugly sailing monument to Peter the Great, and the New Tretyakov Gallery.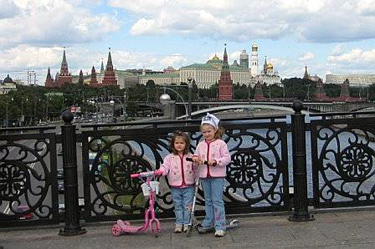 Sixth Stop: Alexander Gardens
Since most Russians choose to get married between May and September, it's a natural choice to stop for pictures at these beautiful gardens that line the brick walls of the Kremlin. You can see other pictures I took of this place here.
The colorful patchwork of flowers echoes the yellows, greens and reds of the buildings rising behind the brick walls—and really make the white of a bridal gown stand out.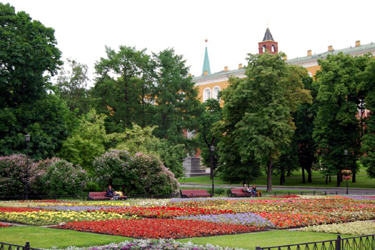 I've often seen couples posing here. A boy that had a crush on Katya when they were five once told his mom that he'd have his picture taken here with Katya one day—when they got a married. His mom pointed out just how long he'd have to wait, but that didn't faze him a bit.
(He's such a great kid! We really like his family, too! That wouldn't be so bad!)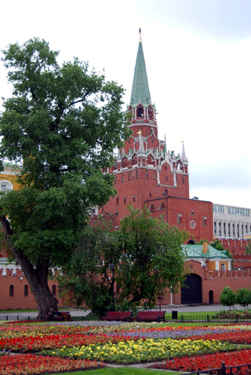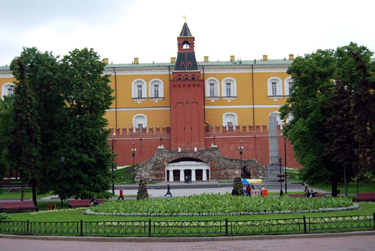 The fountains are a special part of the gardens; they flow between the border of the gardens and Manezh Square. Based on Alexander Pushkin's fairy tales, they're a perfect setting for the many lovebirds and children who pose there for pictures. Katya "fell in love" with Pushkin at school this year, as all Russian first-graders do; she loves to talk about the various animals, the prince and princess…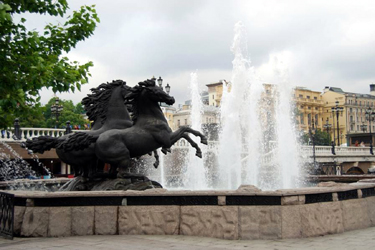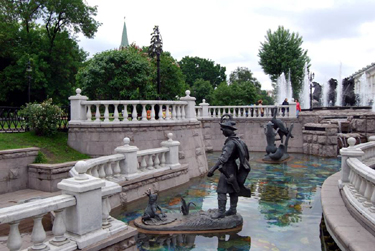 Come back tomorrow for the final stop on the tour–Red Square!
P.S. Happy Love Thursday everyone!
5 Beans of Wisdom to "guest blogger: tamara of american girls in moscow (part IV)"
---