I hope you're enjoying the From Russia With Love tour of Moscow from guest blogger Tamara of American Girls in Moscow as I enjoy time with my mom! Yes, we're having a great time, thanks!
With Tamara, we've already visited Gorky Park as well as Sparrow Hills and Victory Park. Today it's:
Fourth Stop: Novodevichy Monastery
We'll now make our way back towards the city's center, stopping at the famous Novodevichy Monastery—which is actually a convent.
I recently took a picture of the girls here with the dolls (from 1774 Colonial Williamsburg) their grandparents gave them and in the matching dresses my mom sewed for them. (American Girl magazine publishes pictures of girls and their dolls in interesting locations; look for my daughters in a future issue!)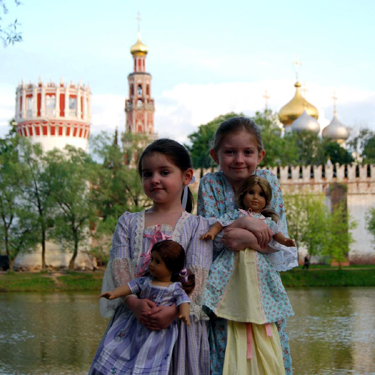 In 2004 Novodevichy Monastery was proclaimed a UNESCO World Heritage Site. See for yourself how incredibly gorgeous this place is, both during the day and at night, in summer and in winter:
To say that my family loves this spot would be a vast understatement. The grounds inside the convent are beautiful, filled with museums, a famous graveyard (Yeltsin was just buried there last year), and historic churches dating from as early as 1524 filled with rare icons. Many couples do stroll the grounds inside, stopping to pose for photographs.
Just as beautiful, however, are the grounds surrounding the fortified walls. On a clear day the pond reflects the convent in its water and the gardens, birch groves and walking paths are filled with appreciative locals.
We also love the modern playground on the other side of the pond; what a backdrop! I'll be bringing the girls to the slope below to take pictures for this year's Christmas card; they'll put on their traditional Russian costumes.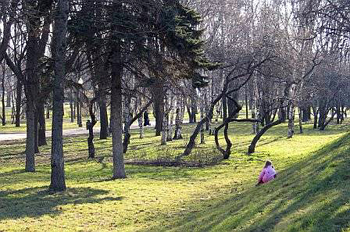 See you tomorrow at the Cathedral of Christ the Redeemer and Alexander Gardens!
7 Beans of Wisdom to "guest blogger: tamara of american girls in moscow (part III)"
---