Welcome back to the newlywed tour of Moscow, From Russia With Love led by guest blogger Tamara of American Girls in Moscow. Yesterday we visited Gorky Park, and here are today's destinations:
Second Stop: Sparrow Hills
From here you have a stunning panoramic view of the city in front of you, just across the river. You can make out many of the famous gothic "Seven Sisters" skyscrapers commissioned by Stalin, spires from the Kremlin, and gleaming golden domes from many of the city's famous churches.
Along the hill there are ski jumps, nature trails, a playground, sports areas, cafes, and paths for biking and rollerblading. Here's a picture of my girls taken during the first days of spring this year; we had a wonderful time exploring the woods there.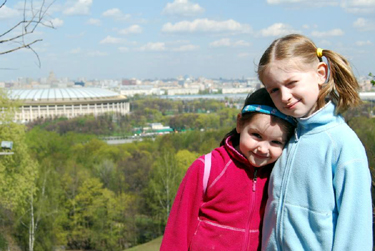 This spot is definitely the most famous of the "newlywed tour;" everyone has a picture from this rotunda. We stopped there for a picture the day my oldest daughter graduated from kindergarten (it's a very big deal in Russia); high school seniors take over the spot during the last week of May, too.
The view behind you (when you're standing on the rotunda) is equally famous; here is awe-inspiring Moscow State University.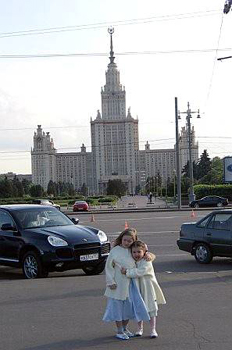 The campus is particularly breathtaking when illuminated at night; it's no wonder that part of the annual Victory Day (to celebrate the end of World War II) fireworks are always held here. I took the following picture just before this year's extravaganza.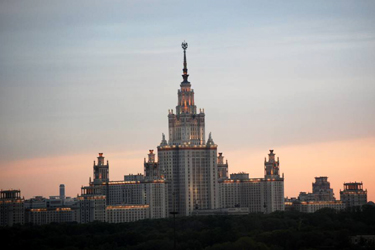 Now we'll get back into the limo and make our way down the other side of the hill, looping back towards the center along Kutuzovsky Prospect—the main grand avenue leading to the heart of the city. This is the road the President and most bigwigs follow during their daily commutes (often leading to temporary blockades and ghastly traffic jams).
Third Stop: Victory Park
This vast landmark is a memorial to Russia's defeat of the Nazis in World War II. It was completed in 1995, in time for the 50th anniversary of the end of the war.
The park's design is formal, with straight alleys dividing the cobble stoned square, grassy slopes and forested area. Main monuments include the 142 meter (466 foot) Nike obelisk and the domed, semi-circular Museum to the Great Patriotic War (what Russians call World War II).
Given how every single family in Russia suffered during the war, losing sons, fathers, grandfathers and uncles, this park is a very important stop for newlyweds. It gives them a chance to honor the relatives who are unable to attend the wedding festivities.
This floral artwork is a good example of Russian landscaping and a very popular spot for photographs. The clock actually works! (MOCKBA is "Moscow" in Russian).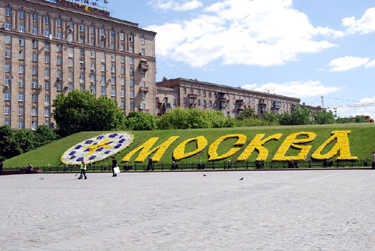 Across from the park, dividing Kutuzovsky Prospect, is the Triumphal Arch that commemorates the Russians' victory over the French in the War of 1812.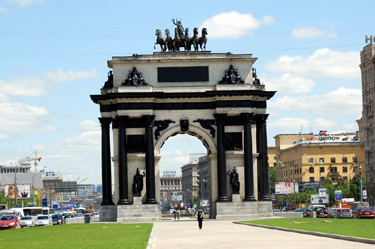 Come back tomorrow to visit our fourth stop, Novodevichy Monastery!
6 Beans of Wisdom to "guest blogger: tamara of american girls in moscow (part II)"
---