Although many of you know about my Italian heritage, you may not realize I'm also part Lithuanian. That corner of the world has always fascinated me, and so it is with great pleasure I turn over the blog this week to Tamara, who writes about the lives of her, her husband and her girls (pictured at left) at American Girls in Moscow.
In a series called From Russia with Love, Tamara will take us on the same grand tour of Russia that many newly wedded Russian couples follow–and just in time for me to wish my brother and father and their wives happy anniversaries!
I've divided Tamara's fabulous photos and information into a week-long series, which means no reduced blogging schedule this week either! Somebody stop me!
So be sure to come back every day for more gorgeous Russian sights. Today is Gorky Park, and other stops will include Sparrow Hills, Victory Park, Novodevichy Monastery, Cathedral of Christ the Redeemer, Alexander Gardens and Red Square.
Now here's Tamara:
Michelle asked me a while ago if I'd be interested in contributing a guest post here, something that would give you a glimpse into my current corner of the world—Moscow, Russia. Her blog is usually filled with such, well, SUNSHINE and everything gloriously Italian… My life here seems so very different from hers in that gorgeous Calabrian landscape…
I then thought of Giuseppe, my host father from when I studied in Rome while in college. I had been invited to join the family on their ski holiday to Cortina—and don't get me wrong, I'd have loved, loved, loved to go. The thing is, I had already made plans six months before to spend Christmas and New Year's with my friends in Moscow. I had worked as a translator for a children's writer here in the fall of 1991, making many dear friends and I was looking forward to seeing them all again two years later. After all, I was already so "close by"… (Well, Rome is a heck of a lot closer to Moscow than New Hampshire…)
"Ma, MOSCA? Perché mai andare in quel paesaccio quando si puo rimanere qua, IN ITALIA, nel piu bel paese del mondo???"

"But, MOSCOW? Why on earth go to that country when you could stay here, IN ITALY, in the most beautiful country in the world?" (If only you could have heard the bewilderment and disdain in his endearing Italian voice!)
As an admiral in the Italian Navy, he certainly wasn't on "good terms" with what remained of the Soviet Union… He was genuinely flummoxed and try as I did, I couldn't help him understand what was pulling me back here—and then back again? Why would I willingly travel economy-class for four days on a Euro-Rail pass to get here? Why would I choose to stay with friends who were scrambling to get by economically, trying to find their way in the wake of their country's unraveling? What could be FUN about three weeks of Moscow's deep freeze?
It can be hard to convince someone of Moscow's charm during the long winter… Weeks of no sunshine, only gray light… Pollution-tinged snow and slush covering the streets, cars, and the bottom of your pants… That's why I'm glad that YOUR virtual visit to Moscow is coming at a splendid time of year. It's summer here, and Moscow is in her green and flowery glory. (We'll, ahem, skip all discussion of the infamous poplar pollen caused by sexually-frustrated trees… You could read more about that—and how sick it makes many of us—here.)
Now… with no further ado… I bring you my post from Russia. Let me give you amici in Italy (or those of you who enjoy pretending you're living in Italy vicariously through Michelle's blog) a glimpse of Moscow's beauty and charm.
From Russia with Love
"So, now that you've just ____________, what are you going to do?"
If you watched TV in the USA during the early '90s, that question might conjure up images of Super Bowl winners declaring they're off to Disneyworld. Even the Genie in Aladdin puts on his mouse hat, grabs his suitcase and heads to the famous park as soon as he is granted his freedom.
Well, if that question includes the words "gotten married" and you're in Moscow, Russia, there's no doubt where you're headed. Before you make your way from the ceremony to the reception, you're 99% likely to hop into one of these, followed by your closest friends in cars decorated with ribbons and streamers. (Third picture borrowed from here.)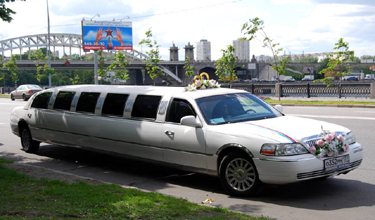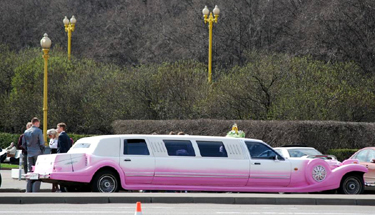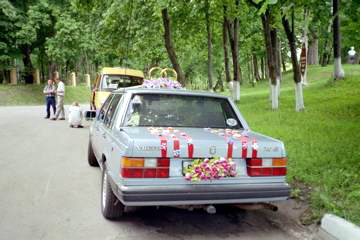 Your destination? The "Grand Tour" of Moscow's most picturesque spots.
Regardless of your wedding budget (they commonly range from $100 to $1,000,000 in this city of drastic extremes), you'll stop to have your picture taken in front of at least a few of these popular places:
Unlike the couple I saw on Old Arbat Street last weekend, we won't be stopping to have our picture taken with Shrek and Fiona. And I will not be asking you to climb up on top of the cow in front of Moo Moo restaurant.
Ladies: go easy on the champagne; there won't be any place to relieve yourself until you get to the reception. Guys: drink up. You can pee pretty much anywhere you want along the side of the road, even in the city's center… Trust me. We live right near one of the popular stops and I've gotten an eyeful too many times to count. If the cops do give you trouble, we'll just slip them some cash and they'll go away.
Ah, the joys of Moscow!
First Stop: Gorky Park
Everyone has heard of this place… It's a huge complex on the southern bank of the Moscow River, including tree-lined paths, ponds, outdoor theaters, cafes and an amusement park. The promenade—and the pedestrian bridge over the water—are popular spots for photographs.
Here are my daughters, Katya and Natalia, in the picture that was my blog's header for the most of this year. You'll see more of the other view from this spot—with the Kremlin in the background—when we stop later at Christ the Redeemer Cathedral.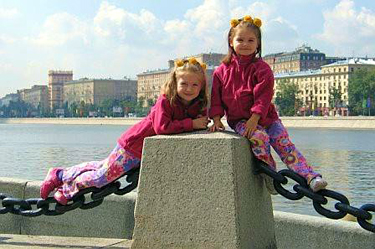 Now get back in the car… We're headed over the river along Prospect Vernadskovo, driving by the famous Luzhniki Olympic Sports Complex, as we drive to Sparrow Hills—the highest spot in Moscow.
See you there tomorrow!
11 Beans of Wisdom to "guest blogger: tamara of american girls in moscow (part I)"
---