We're gonna have woast wabbit! We're gonna have woast wabbit!
Yes, I say this every time we make this dish, and sadly, it's completely lost on P. So you *must* appreciate it. You do, don't you?
Today's What's Cooking Wednesday recipe is fresh off the "Bizarre Foods" discussion on Friday because yes, I do realize that eating rabbit may be out of the ordinary for some of you. It wasn't the norm for me either before I came here, although my (Italian) great-grandfather apparently made a delicious rabbit ragù for the family in America.
P's father used to raise rabbits for food, and now since P is continuing the tradition, it's quite common to find rabbit on our dinner table.
If you're curious, no, I have absolutely nothing to do with raising them–we'd likely end up with a lot of pet rabbits if that were the case. And the time P asked me to help, ahem, prepare the rabbit for cooking? He quickly let me off the hook when tears welled up in my eyes at the sight of the poor thing–no longer alive, but still difficult to see.
Yes, I know you may find that hypocritical, but that's me. I have to say that I do admire P's compassion and caring in bringing up the rabbits though. I know that sentiment may be nonsensical to vegans, vegetarians, and others, and quite honestly, it's hard for me to really wrap my head around as well, but it's true.
He is quite gentle and humane with them and even gives them names; he just grew up knowing them as food, and that's what they are for us. We definitely save money on meat purchases and at least we know that these are organically raised and treated well.
Such is life in Calabria–full of contradictions and peculiarities but never, ever, boring.
Now on to the recipe, which is based on Coniglio (o pollo) al forno con patate–that "o pollo" means you can also use this recipe for chicken.
Roasted Rabbit & Potatoes
(serves 2 as main course, more as part of larger dinner)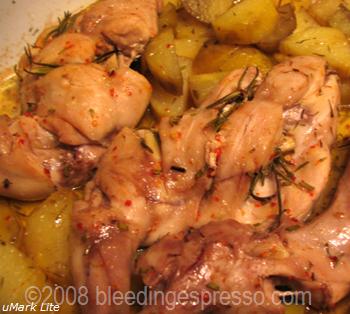 3 pieces of rabbit (2 thighs and a shoulder will do)
4 large potatoes, cut into chunks
3 cloves of garlic, cut into chunks to be inserted into rabbit pieces
3 tablespoons olive oil
a few sprigs of rosemary
thyme
2 bay leaves
salt
peperoncino
1. Turn on oven and set to 200°C (390°F).
2. In a small bowl, mix together olive oil, salt, peperoncino, and some rosemary. Let sit for about 10 minutes.
3. Wash the pieces of rabbits, and without drying, put them in baking dish.
4. Wash the potatoes, peel and cut them into chunks, and add them to baking dish; sprinkle them with salt and thyme.
5. Score rabbit so that you have places to insert garlic and some sprigs of rosemary. Brush oil mixture liberally onto rabbit pieces and then break up the bay leaves on top of the rabbit.
At this point, it should look something like this: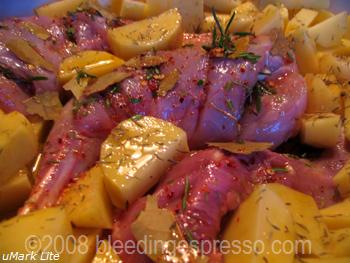 6. Cover baking dish with aluminum foil and place in oven.
7. Let cook for about a half hour. Remove from oven. Turn rabbit and toss potatoes. If the dish is dry on the bottom add some olive oil and/or water.
8. Cook for another 20 minutes or so, being sure that potatoes and rabbit are fully cooked before serving.
9. Let sit a few minutes before serving, but still serve hot.
Buon appetito!
28 Beans of Wisdom to "what's cooking wednesday: roasted rabbit & potatoes"
---