Yesterday just as I was seriously wondering whether I'd have something interesting to make for What's Cooking Wednesday, I received an email from Salena of The Daily Rant, aka "The Camera Fairy."
She included a link to a recipe for Olive Oil Cake from Saveur and asked if I'd be willing to be her test kitchen; not surprisingly, Salena's truck-driving career doesn't give her much opportunity to bake.
Of course I accepted the challenge.
As stated on Saveur's site, the original recipe comes from Trattoria Dalla Rosa Alda, a restaurant in the Valpolicella region in the province of Verona in northern Italy. The cake is called Pissota con l'Oio and uses a special liqueur made by Dalla Rosa Alda.
In place of this unique booze, Saveur recommends "Grand Marnier or other sweet citrus-flavored liqueur."
Well if you're in southern Italy like I am, "sweet citrus-flavored liqueur" means limoncello, so that's what I used.
I also added a half teaspoon of confectioner's sugar because when I tasted the batter, it seemed really bitter to me. You're welcome to use your own judgment.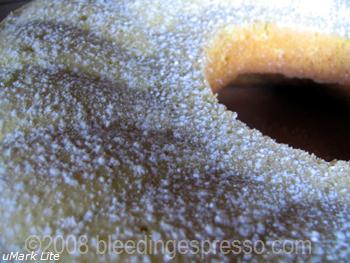 I'll definitely make this cake again and maybe add even a bit more limoncello and lemon zest next time for even more lemony goodness. I'm not sure that my texture came out the way it's supposed to, but I do love it–kind of a lemon sponge and not dry at all (like Italian cakes can sometimes be).
And now I have yet another reason to love lemons.
Grazie mille Salena!
Olive Oil & Limoncello Cake
[adapted from Saveur]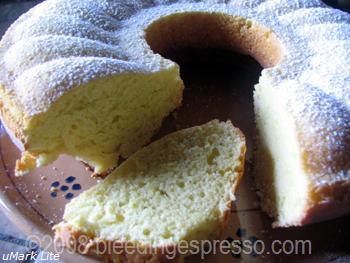 Butter & flour for preparing pan
3 cups flour
4 eggs
1 cup sugar
1/4 tsp lemon zest
3/4 cup quality extra-virgin olive oil
2/3 cup milk
3 tbsp limoncello
1/2 tsp confectioner's sugar
1 tbsp baking powder
1. Preheat oven to 325°F (163°C).
2. Grease an 11-cup bundt pan with butter and dust with flour, and set aside.
3. Beat eggs and sugar together in a large mixing bowl with electric mixer until pale yellow, about 1 minute.
4. Add flour, lemon zest, oil, milk, and limoncello and stir with a wooden spoon until well combined. Add baking powder and confectioner's sugar and stir until thoroughly combined.
5. Spoon batter into prepared pan and place in oven.
6. Bake until cake is deep golden brown and a toothpick inserted in center comes out clean, about 40 minutes. Transfer cake to a wire rack to let cool completely, in its pan.
7. Before serving, dust with confectioner's sugar if you like. Incidentally, this cake goes fabulously with espresso.
Buon appetito!
33 Beans of Wisdom to "Recipe: Olive Oil and Limoncello Cake"
---