Last Tuesday we visited the weekly market in my village, and now it's time for a little bargaining lesson.
First you should know that market prices are already lower than in the local stores–but that doesn't mean you can't get even better deals.
My first few Tuesdays here, I sat at the corner of the piazza and just watched the old women at work. I figured it was the best way to learn–from the pros.
I've often read that touching produce in Italy is a no-no, but apparently no one has told these women.
Or, more likely, the vendors are just too afraid to scold despite their tough exteriors.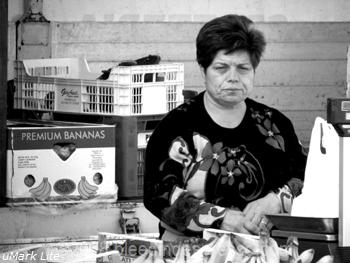 Concetta (below) is one of the young old women. She's in her early 80s, but gets around as well as anyone including me. She always smiles wide and says "Ciao Bella" while stroking the side of my face.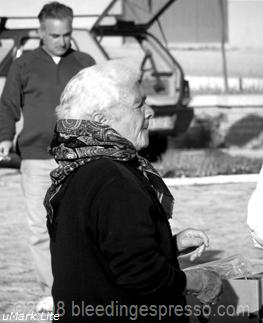 The first time I met her she invited me into her house and showed me photos of her entire family, including children and grandchildren spread throughout Italy, Europe, and South America as well as her husband who has passed on.
Concetta doesn't live alone though; she lives (in sin!) with her male companion, a widower. By not getting married, she explained to me, she can still collect her deceased husband's pensions (one from Italy and one from Switzerland). Furba, eh?
Come Tuesday morning, though, Concetta is all business. Her laughlines are well-hidden behind a poker face that truly draws fear in Pasquale, the meat truck guy.
I've seen her slap the hand of Totò, the man selling fruit and vegetables from the back of his Ape (AH-peh) when he tried to retrieve a carciofo from her hand.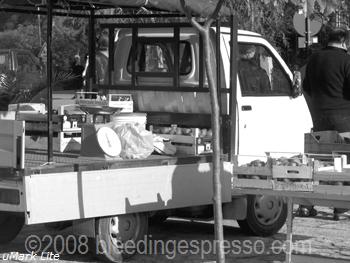 I've also seen her throw up her hands in disgust and stomp away as Turi, the man with the best broccoli (I'm told) yelled after her shouting many numbers.
[The secret is to walk away; if they follow, they really want to sell.]
Concetta knows what she wants and she knows how to get it. She never leaves the market empty-handed, and always with a smile on her face.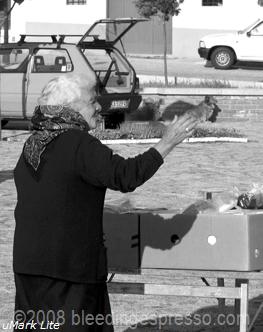 Another successful morning for her, and another lesson in village life for me.
So, have you bargained at the market?
30 Beans of Wisdom to "tuesday morning market in calabria: part II"
---