I have to admit that I was not a fan of sausage before I moved here. Calabrian salsiccia is really something special though, and this simple dish has become one of my absolute favorites.
If you're going to make this week's What's Cooking Wednesday recipe, please try your hardest to get some Calabrian sausage. The main flavor you should be looking for inside la salsiccia is peperoncino — hot pepper. Look at the photo below–see how red the inside is? That's not undercooked, that's piccante. And YUM.
The recipe is super easy–just your basic tomato sauce really–so feel free to experiment, throw in some peppers, mushrooms, or whatever you like, although you probably won't need extra peperoncino!
I know a lot of people take the sausage out of its casing and crumble it into the sauce, but the method described below really lets the sausage shine. Keeping the sausage in its casings would also allow for the traditional Italian meal of pasta for the first course and then meat for the second course–although we eat it all together anyway. My American influence on P perhaps?
Pasta with Calabrian Sausage
(serves 2)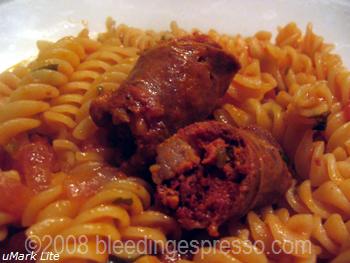 Pasta of your choice [recommended: fusilli  or penne(short) or bucatini (long)]
2 tablespoons olive oil
1 small red onion, chopped finely
1 clove garlic, cut in half
2-4 Calabrian sausage links, depending on their size and how many people are eating
Small handful of parsley, chopped
Splash of red wine (optional)
1 can of tomatoes
salt to taste
1. Heat about half a tablespoon of olive oil over medium heat in saucepan.
2. Poke holes in the sausage with a fork, add sausage to the pan, and and cook until browned on the outside, about 10 minutes. The sausage should also spring back from your touch a bit. It doesn't have to be cooked through completely at this point as it will continue to cook in the sauce later, but you do want it mostly cooked.
3. Add another half a tablespoon of olive oil if the pan is dry; it may or may not be depending on the fat content in the sausage. Add onions, garlic, and parsley and sauté without letting them burn; you may have to turn down the heat a bit here.
4. Optional: Add wine and let cook off.
5. Turn the heat down to low and add tomatoes (put through a grinder or chopped to your liking), about a 1/4 cup of water to clean out the can, and salt to your taste. If sauce is still too thick, add some water; we often add up to 1/3 cup depending on the tomatoes. Cover and let simmer for another 10-15 minutes or until the tomatoes are done to your satisfaction (including proper thickness of sauce). If the sauce is too thin, let it cook for a bit without the lid on.
6. Prepare pasta and toss well with sauce. You could add some grated cheese, but I think this is delicious without.
Buon appetito!
28 Beans of Wisdom to "What's Cooking Wednesday: Pasta with Calabrian Sausage"
---