I recently came across a great looking recipe for a gluten-free chocolate cake in one of my favorite Italian magazines. I told my mom I was going to try it for a What's Cooking Wednesday and her immediate reaction was "Why?"
You see, I'm not allergic to gluten; perhaps you could tell from the amount of pasta recipes on here?
As I told my mom, though, I do have friends (and blog readers!) who have Celiac Disease. And let's be honest: I'm getting plenty of white refined flour in my diet as it is.
Plus today is my sister-in-law's birthday–a perfect time for some baking.
Happy Birthday N!
So I went to the store and picked up almond flour as listed in the recipe. Next to it on the shelf was coconut flour. Hmmm….
Yes, I came home with two fancy flours. Then I looked closer at the recipe. Six eggs! Goodness that's a lot. Especially since P had just eaten two of the six I had in the fridge–and the hens wouldn't be laying any more that day.
So I started looking around the Internet for other gluten-free chocolate cake recipes. I quickly found out that lots of eggs are quite common in gluten-free cake recipes–this one has 10! The cake looks fabulous, but I'm guessing anything with 10 eggs is going to be a little much for just P and me (especially when one of us will only eat sweets when force fed).
Then I found this recipe for Flourless Chocolate Muffins, played around with it, and came up with these:
Now I don't mean to toot my own corno, but oh these are *so* good.
The coconut adds great texture, and they are just as moist as The Moistest Chocolate Cake in the World (probably because I borrowed the idea of using coffee in the batter).
I will definitely make these again. And again. And you guessed it–yet again.
Gluten-Free Chocolate Coconut Muffins
[makes 6 large or 12 normal size muffins]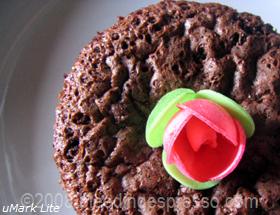 3 eggs
1 cup sugar
1/2 cup almond flour
2/3 cup coconut flour
6 tbl unsweetened cocoa powder
2 tbl vegetable oil
1 tsp baking powder*
2 tsp vanilla*
1/4 (measuring) cup or one small espresso cup of brewed espresso
[*For those in Italy, note that I used one bustina of lievito per dolci in place of baking powder and vanilla.]
1. Preheat oven to 350°F/180°C.
2. Grease 6 large muffin cups, or 12 normal muffin cups.
3. In large mixing bowl, beat together eggs and sugar with electric mixer.
4. Add vegetable oil and mix well.
5. Stir in almond flour, coconut flour, cocoa, vanilla, baking powder, and espresso, and mix gently. I did this with a silicone spatula, something like this.
6. Pour into muffin cups, filling about 3/4 full and bake until a toothpick inserted in the center comes out clean, between 25-35 minutes. (Mine took about 30 minutes.)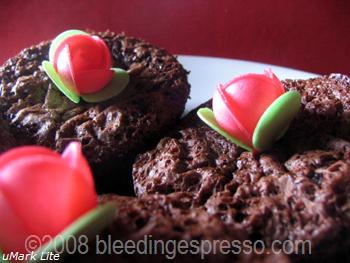 With a little dab of marshmallow/fluff, these reminded me so much of my beloved Mallo Cups . . . anyone else love them? Yes, I have a huge sweet tooth, why do you ask?
Buon appetito!
38 Beans of Wisdom to "What's Cooking Wednesday: Gluten-Free Chocolate Coconut Muffins"
---