It's almost time! Italian elections will be held Sunday and Monday.
Other than having two days instead of one to vote, another big difference in elections here (from those in the US) is that the parties running on the local level adopt their own names, logos, and slogans.
What does that mean? Well, for example, the party that I'll be voting for on Sunday is aligned with the larger Partito Democratico on the national level but it has its own symbol, completely different from that of the PD.
What does this have to do with Love Thursday?
Well for the past few weeks, everywhere I turn in the village I see: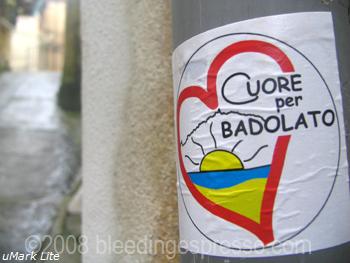 Happy Love Thursday everyone!
29 Beans of Wisdom to "love thursday: heartin' politics"
---