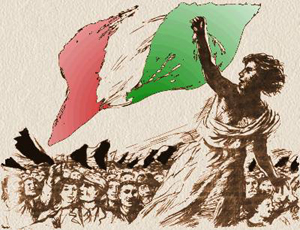 Today is one of Italy's biggest holidays: la Festa della Liberazione or Liberation Day, celebrating the country's liberation from fascism thanks to Allied troops at the end of World War II.
When I first arrived here, many of the older residents, upon finding out I was American, loved sharing their memories of American soldiers who marched into the village from over the mountain and handed out chocolates to the children.
Sixty plus years later, and they simply can't forget what life was like under "Il Duce." My neighbor Anna Maria still remembers a children's rhyme that lamented days without bread and nights without light: "u jornu senza pane, la notte senza luce."
Liberation Day celebrations in Italy are two-fold — one part is to honor those who fought the fascist regime and the other is to protest against tyranny and oppression throughout the world.
Not coincidentally, Italian comedian, actor, blogger, and Champion of Change Beppe Grillo has chosen today to hold the second V-Day to encourage "freedom of information in a free state." That V stands for "vaffanculo" and tells oppressors and criminals in positions of power in Italy what they can go do to themselves.
Now go celebrate!
And don't forget to check out Cherrye's Buttermilk Biscuits
for La Buona Cucina Americana!
Buon weekend a tutti!
35 Beans of Wisdom to "Happy Liberation Day Italia!"
---