* Hurry and sign up! The Ultimate Blog Party ends tomorrow!*
*Also: Get over to i-Mommy's place for a fun game giveaway!*
This Love Thursday I'm celebrating gifts and bees.
Burt's Bees, that is, and a lovely gift of their products from a dear blog friend, Geggie of So . . . What Else, What Else, What Else?
You see, a little while ago, I helped Geggie out with a small blogging issue, and she said she'd send me a thank you gift. And boy did she ever.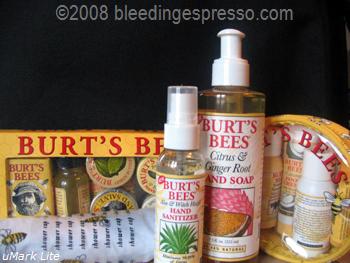 Hand soap, hand sanitizer, body wash, shampoo, lip balms, lotions, cremes, and even an adorable bee-covered shower cap–and two travel cases to boot!
I am now an official Burt's Bees addict after only a few days of the all-natural stuff; as I told Geggie, I just can't stop sniffing my hands after washing them with the Citrus & Ginger Root hand soap. So lovely!
Anyway, for this Love Thursday I am not only expressing my love of Burt's Bees products (by the way, woohoo Durham, NC, my home for 4 years!), but also thanking Geggie, encouraging you to go over and visit her, and letting you know that our generous Geggie, through the Ultimate Blog Party, is also giving away $100 worth of products from Burt's Bees Naturally Ageless skin care line (#91 on the prize page)–you just need to sign Mr. Linky at the Ultimate Blog Party to enter.
And that's why I'm celebrating gifts and bees today.
Happy Love Thursday everyone!
27 Beans of Wisdom to "love thursday: gifts and bees"
---