Even though there have been small celebrations all week, today really begins the Pasqua (Easter) festivities around here. They won't finish until late Monday afternoon, so I won't be back blogging until Tuesday.
But you know I wouldn't leave you without at least some suggestions of what to do to fill your blog-reading time, right?
Want to experience what I'll be doing this weekend?

1. Check out Pasqua in Calabria for a description of our day long procession on Sabato Santo (Holy Saturday) and the magical Easter Sunday meeting between the Madonna and Jesus.
2. Then see the photographic evidence in Pasqua in Calabria: The Photos.
3. And if you're curious about why the fun in Italy continues on until Easter Monday, check out last year's Pasquetta activities in Still Celebrating.
4. If you're looking for traditional Calabrian Easter cake, check out Calabrian Cuzzupe.
5. And if you happen to be interested in one of my favorite childhood holiday memories, check out Deno's Easter Eggs.
And now a very important announcement:
Have you noticed the new widget over in my sidebar? Looks like this?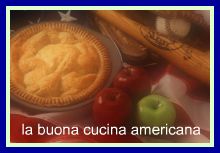 Here's the deal. Our philosopher in Umbria, Judith of Think on it!, is stufa of hearing that American food is characterized over here in Italy as unhealthy at best and downright poisonous at worst. We Americans know we eat "real food" and that it's not all sweets and McDonald's right?
Well it's time to show the Italians "La Buona Cucina Americana."
So Judith, Mary of The Flavors of Abruzzo, Barb of Barb and Art Live in Italy, Sara of Ms. Adventures in Italy, Cherrye of My Bella Vita, Judy of Over a Tuscan Stove, and I are going to be taking turns sharing real American food and recipes each Friday.
In the words of our fearless leader Judith:
Some friends and I are going to begin publishing weekly recipes for old fashioned American food, food like grandma used to cook and perhaps like you still cook, if you happen to be American. So what's new about that? There are innumerable food bloggers in the USA pouring out magnificent food of every description as made in the USA. Yes, that is so, but they don't do it from Italy and in Italian!
That's right folks. All recipes will be in English *and* Italian so that Italians can stop by and enjoy some down home American food–so tell your Italian friends!
Mary is kicking off things today with American Style Shepherd's Pie, and next week will be Judith's turn with Chicken Pot Pie.
Mmm. I'm getting hungry…and homesick!
If there's anything you'd like to see featured in La Buona Cucina Americana or if you'd be up for the challenge of sharing your American recipes in Italian (with ingredients available in Italy), leave a comment here!
I hope the Italians are ready for us.
Buona Pasqua to those celebrating–and buon weekend to all!
36 Beans of Wisdom to "La Buona Cucina America Plus Pasqua in Calabria"
---