Ever since I posted a recipe for Rigatoni with Tuna and Christine mentioned doing that sauce without the tomatoes, I've been wanting to try this "in bianco." P finally gave the nod the other day, and boy do I love the results.
This is a super-fast dish (and easy easy easy), so you'll want to put on the water to boil for the pasta before you even start cutting anything up. I did this with penne, P's favorite short pasta, but you could do this with pretty much any kind of pasta and it would work just fine.
I'm going to try it with linguine next, in fact, since as I was eating this I realized it's kind of a Poor Man's Linguine with Clams.
Pasta with Tuna & Lemon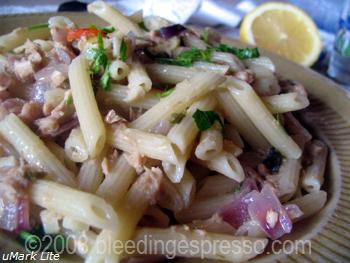 2 small cans of tuna packed in olive oil
1 small red onion, chopped
1 clove garlic, minced
1 peperoncino, chopped
fresh chopped parsley (save some for garnish)
splash of white wine
lemon juice (I used half a lemon)
salt to taste
In pan, heat olive oil drained from tuna cans over medium heat. If your tuna isn't packed in olive oil, use two tablespoons or so of the good stuff.
Add onions and garlic and sauté until translucent without burning.
Mix in tuna, parsley, and peperoncino. Let cook for a few minutes, then add the splash of white wine and let it cook off.
Add a small ladle-full of pasta water, squeeze the lemon juice into the mixture, and leave pan on the heat just long enough for the flavors to mingle. Add salt to taste.
Toss with pasta of your choice.
Told you it was easy.
Buon appetito!
—————
[tags]tuna, pasta, lemon, tuna with lemon, tuna recipes, pasta with tuna, what's cooking wednesday, recipes[/tags]
25 Beans of Wisdom to "What's Cooking Wednesday: Pasta with Tuna and Lemon"
---