OK, you're thinking "yawn" right? Maybe you're even actually yawning. But wait! Oatmeal can be exciting!
Maybe "exciting" is pushing it, so how about healthy?
Oatmeal is good for you!
And we'll get back to that in a minute, but first: I know that many of you come here for great Italian or Calabrian recipes, but I'd also like to broaden the scope of What's Cooking Wednesday a bit to, every now and again, include all kinds of basic foods that I like–some will be particularly Italian/Calabrian but there will also be others from back home.
And where the food allows, I'd also like to provide health information and why you should include these foods in your diet.
I quietly started doing this a couple weeks ago when I told you about blood oranges, inspired by the fact that we were having bags and bags of the delicious fruits delivered to our house by friends and neighbors.

Well since the arrival of Mr. Quaker (via my mom), my new daily breakfast has been rolled oats, oatmeal, or porridge to some of you, and I'd love to share my latest obsession.
First thing you might have noticed is that I have to have my oats shipped in. I've never seen them in a grocery store here, and I know at least one other expat brings hers in from the States as well.
Needless to say, P is baffled by this breakfast as is evidenced by his exclamation the other day after I had mentioned I was hungry and about to make breakfast: "Wow, you really *are* eating!" Gee thanks.
You see Italians by and large simply have coffee and a brioche for breakfast, if that; P doesn't eat anything. All for the most important meal of the day. Crazy, isn't it?
I have hope, though, that he can be swayed like Delinissima's other half; I just have to sell him on the texture I think.
What is oatmeal?
Oatmeal is rolled or crushed oats, cereal grains that come from the common oat plant (avena sativa); oats can also used as livestock feed and an ingredient in beer. Oat extract is becoming a more common ingredient in skin lotions.
Health benefits of oatmeal
Since 1997, oatmeal has been permitted by the Food & Drug Administration to tout its effectiveness in combating cholesterol on its label; now according to new research published in the January/February 2008 issue of the American Journal of Lifestyle Medicine, it seems that oatmeal is even better than we thought.
"The Oatmeal-Cholesterol Connection: 10 Years Later" by Dr. Mark B. Andon and Dr. James W. Anderson puts forth that 15 years of studies have shown, without exception, that:
total cholesterol levels are lowered through oat consumption;
low-density lipoprotein (LDL, the "bad" cholesterol) is reduced without adverse effects on high-density lipoprotein cholesterol (HDL, the "good" cholesterol), or triglyceride concentrations.
The cholesterol-lowering effects come from the soluble fiber in oats, which can also aid diabetics because it slows the digestion of starch, helping to avoid spikes in sugar levels.
Oats are also a good source of insoluble fiber, which can help fight cancer, as well as protein, vitamin E, zinc, selenium, copper, iron, manganese, and magnesium, and may also offer an alternative to wheat for those with Celiac Disease (although this is constantly being debated).
A cup of oatmeal a day is what's going to give you these great benefits, so eat up!
What about steel cut oats?
Steel cut oats are the inner portion of the oat kernel cut coarsely into a few pieces so that they actually resemble rice; accordingly, they are less processed than what we know as traditional oatmeal. Steel cut oats take longer to cook than rolled oats, but as they are less processed, may hold even greater nutritional value than rolled oats.
For some great steel cut oats recipes, check out the Fat Free Vegan Kitchen.
How to enjoy oatmeal
The most important thing is to stay away from the pre-prepared packets because they contain so much sugar (although truth be told I do enjoy me some Peaches & Cream every now and again).
It really doesn't take any longer to prepare a bowl of regular Quaker Oats from scratch, plus you have control over what is added to them. As mentioned, steel cut oats do take longer to cook, but remember you'll probably be getting more health benefits too.
Here's my basic recipe: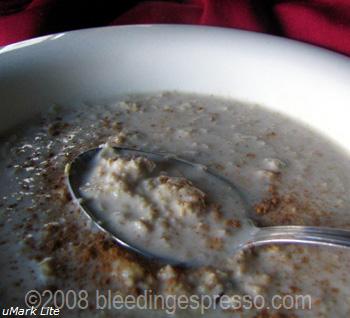 4 heaping tablespoons rolled oats

Enough milk to cover them in the pot

Teaspoon of brown sugar

Handful of raisins

Pinch of salt

Sprinkle of cinnamon to garnish

——–

Mix and let cook for about two minutes or until cooked to your taste,

stirring to prevent sticking.
The thickness is really up to you, so do experiment. I don't like my oatmeal too, too thick, but not too liquidy either.
One might say I like it "just right."
And although some of you may think the flavors go horribly together, for whatever reason I just love a spremuta d'arancia, a freshly-squeezed orange juice, with my oatmeal.
Maybe I just love to make something healthy even healthier–or maybe I'm just trying to detox after yesterday's World Nutella Day!
So do you eat oatmeal? How do you prepare it?
—————
[tags] oatmeal, oats, what's cooking wednesday, steel cut oats, orange juice, spremuta, spremuta d'arancia [/tags]
44 Beans of Wisdom to "What's Cooking Wednesday: Oatmeal"
---