Last week, a high school in my former adopted city of Philadelphia was closed for a day while personnel cleaned up after 85 Rhode Island Reds.
For the fowly-challenged, those are hens.
On Sunday, February 10 around 9:30 p.m., four unidentified males entered Northeast Philadelphia High School and let the birds loose, supplying them with plenty of chicken feed throughout the hall. For some reason, no alarm sounded upon their entrance and the hens weren't discovered until hours later when the "school building engineer" showed up for work.
Can you imagine that guy's face?
School was, not surprisingly, canceled that day, and the incident is under investigation by the Philadelphia School District, the Philadelphia police, and the Pennsylvania Department of Agriculture.
Students returned to the bird-free zone the following day. Here's one them, senior Laura Weiszer, with a t-shirt commemorating the hen invasion: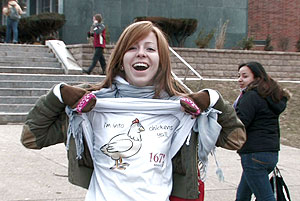 "I'm into chickens ya'll" is what's written on there.
As for the hens, they were taken to nearby Fox Chase Farm. Sorry, but I can't help wondering about the wisdom of letting the hens in the foxhouse. Hah!
The Philadelphia School District has two farms and will keep some of whatever hens aren't claimed by their rightful owners.
I have to admit that I thought this was all pretty funny when I read it–especially after I was assured that the pranksters left food for the hens.
Even school officials saw the humor; in reference to the fines that those responsible will have to pay, district spokesman Fernando Gallard said, "It's not going to be chicken scratch."
See, if this happened in Italy, all the hen droppers would need to do is come up with a motive behind the "protest" and they wouldn't have to pay anything.
And really, wasn't this *so* much more inventive than simply throwing some balls down the Spanish Steps?
A whole lot messier though.
————–
[tags]philadelphia, hens, rhode island reds, northeast philadelphia high school, fox chase farm[/tags]
21 Beans of Wisdom to "philadelphia going to the birds"
---