I am *so* lucky to be able to work at home.
I especially appreciate it when the weather is nasty outside — cold, rainy, and windy — and I can sit at the kitchen table with my laptop, papers and files and notebooks spread all around me, the small space heater nearby, a fleece blankie over my legs, and Luna and Stella at my feet.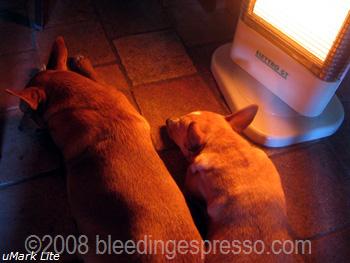 Well, nearer to the stufa than to my feet, but who's measuring?
Happy Love Thursday!
(Yes, it's officially back!)
28 Beans of Wisdom to "Love Thursday: Letting Sleeping Dogs Lie"
---