Last week I received an awesome surprise in the mail from one of my very favorite artists and bloggers, Karen Cole of Artsortments (and I'm not just saying that because her self-portrait from her college days could've been done of P's sister Pina):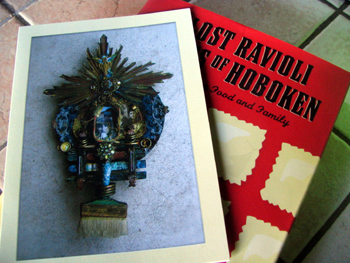 That's a copy of Laura Schenone's The Lost Ravioli Recipes of Hoboken: A Search for Food and Family underneath Karen's card, which shows one of her assemblage sculptures she made while in Cortona in 2006. Isn't it gorgeous?
FYI, I'm loving the book so far; I'm only a couple chapters in, but I'm relating to so much of what Schenone went through in her search for family heritage vis à vis Genovese ravioli–from the basic lack of interest on the part of her American family to her pilgrimage to the Old Country.
Grazie mille Karen!
I'm also reading two other books that were sent to me by She Who Blogs blogging buddies:
from Karina of Candid Karina and Creative Karina
and

from Qualcosa di Bello of Piacere, Write Away, Dog Blog, and Snap 366.
These books are both *fantastic* reads (as are those blogs–check 'em out!). It's taking me a while to get through all these books just for lack of spare time, but I'm truly savoring every stolen moment I have with them.
I can't thank my book fairies enough–as I've mentioned a few times, English-language books are just not easy to come by around here.
But I even have an Italian-language book fairy! Back for my birthday Shelley of At Home in Rome sent me the Italian version of Paulo Coelho's The Alchemist (L'Alchimista), which I finished last week.
Ya'll I read the WHOLE thing. In Italian! And it took me well under a year! Woohoo!
Plus? I *loved* it. I can't wait to read the English version now too.
Have you read any of these books? What did you think?
And what are you reading now?
Come on! This is as close as I get to browsing through a bookstore these days.
23 Beans of Wisdom to "Finding Ravioli and Other Book Recommendations"
---