When I kicked off the new BleedingEspresso.com a couple weeks ago (is it really only a couple weeks ago?), I told you I had some new ideas. One of them is:
1st of the Month Featured Bloggers
While you can always find my favorite blogs in my Links page (just click "links" in the above bar), I also want to take time each month and point you to particularly wonderful places that I know you'll enjoy.
I've chosen two fabulous artists for February's featured bloggers. Their work always amazes, inspires, astounds [insert more similar adjectives here]; I can't tell you how often I've smiled, laughed, cried, etc., while visiting their blogs because they transmit so much energy and emotion with their words, images, and creations. The blogosphere is truly lucky to have them.
* Seamus Kearney of Shameless Words *
The first blogger is none other than the fearless (and shameless) leader of the Shameless Lions Writing Circle, Seamus Kearney, who blogs at Shameless Words. Remember the part of the collective short story I wrote some months ago? It's still going on, so check it out here.
Seamus is an Irish Kiwi, i.e., a New Zealander with Irish heritage, who does just about anything artistic that you can imagine–and does it fabulously. He writes, paints, takes photographs, plays the piano, and also composes.
Recently Seamus posted a collection of his photographs of Ireland set to one of his original piano compositions entitled "The Magic of Ireland."
I truly don't have the words to describe how beautiful, moving, and simply gorgeous "The Magic of Ireland" is. I tried to embed the video here but it's not working without messing up my columns even when I adjust the size (I always have this problem with YouTube–it's not you Seamus!), so you'll have to head to Shameless Words to see it.
Go! Enjoy! And read lots of his fabulous short stories too!
And tell Seamus I sent you!
* Debbie Egizio of Debbie Egizio's Creatively Inspired Blog *
I found Debbie's site through my good blogging buddy somepinkflowers who never, ever steers me wrong. Debbie is an artist, designer and owner of The Beat of My Art shop in Naperville, Illinois and she always has such wonderful creations on her site like these Artist Trading Card heartfelt messages: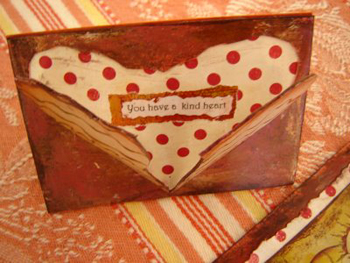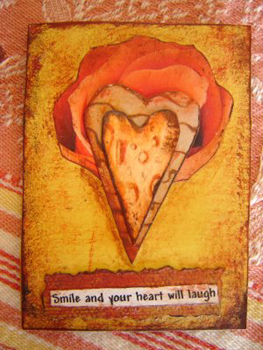 Visiting Debbie is the virtual equivalent of brewing a cup of Earl Grey and curling up by the fireplace with the doggies. Indeed, sometimes I do these things *and* visit Debbie. So wonderful!
In a twist of blogging fate, Debbie has just awarded me with a "You Make My Day" award. Thanks Debbie! I think it goes without saying that you make mine as well.

I hope you'll visit Seamus and Debbie and enjoy your time with them as much as I do–and I'd love if you would choose some bloggers to feature on your blog as well–why not start a 1st of the Month Featured Bloggers at your place? (No penalties if you post on say, the 2nd or 3rd or 14th this time around!)
We all only have so much Internet time, so it's great to get recommendations from bloggers we read regularly as well.
Or, in other words, share the blog love peeps!
Buon weekend!
11 Beans of Wisdom to "1st of the month featured bloggers: february"
---