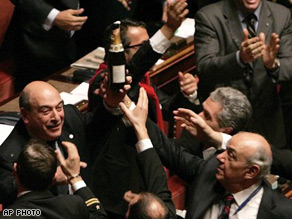 Last night Prime Minister, er Former Prime Minister, Romano Prodi lost a confidence vote in Italy's Senate after he had easily won in the Chamber of Deputies, the lower house. You can read details about what happened here and read my friend Paola's take (with which I happen to agree) on the whole thing here (in English).
FYI, the lead-up to the vote included spitting, fainting, and one senator being taken out on a stretcher. And yes, those are Prodi's oh-so-mature opponents popping the bubbly just after the results were announced in the above photo. They were actually scolded on live television by Senate President Franco Marini who told them to put away the bottle as "We're not in an osteria."
So what does this mean? Well we could be looking at either an interim caretaker government (which just might be led by . . . Prodi) *or* a so-called snap election.
Because goodness knows what Italy needs is more elections. It'll be up to President Giorgio Napolitano to decide.
As Eric Reguly notes in this article, this turn of events opens the door for the return of Silvio Berlusconi, Former Prime Minister, billionaire, controller of a large chunk of Italian media, and, in some political circles, the Anti-Christ, as the leader of the Bel Paese.
On a personal note, this could also mean that I'd get to vote for two countries' leaders in one year.
Still, I'd prefer the interim government to give President Napolitano a bit of time to fix the electoral system so that fewer parties would be able to spit (literally as it turns out) and fight for control in Parliament. The last election put 40 different parties in there, which turned into a lot of power struggles, strange bed fellows, repeated confidence votes, and general chaos.
Ah, and a fallen government.
Kinda feels like déjà vu all over again, doesn't it?
The last time Italy's government fell eleven months ago, I posted this and suggested we all turn to alcoholic children's snacks to ease our pain.
But I say we up the ante.
I hear that Hershey's is making some mints whose packages resemble street packets of cocaine–although not for too much longer, so hurry and grab yours today! Talk about an Ice Breaker!
Click here for a photo on the off-chance that you, too, had no idea what a mint that resembles a street packet of cocaine might look like.
And that's all I have to say about that.
Buon weekend a tutti!
—————
[tags]italy, italian government, romano prodi, silvio berulsconi, confidence vote, giorgio napolitano, politics, hershey's, icebreakers[/tags]
28 Beans of Wisdom to "italy's government falls…again"
---