It's been a while since I've mentioned our four-legged friends around here, and some of you might be wondering what's going on.
Well the puppies have all been adopted out–the last one the day after Christmas. Sniff sniff. I definitely miss their energy but not so much the crazy hours and, ahem, the smell.
From about that time, I've been working hard on the blog and trying to juggle other work projects so other than our 5 walks a day, Luna and Stella have had to entertain themselves. Poverine, I know.
Don't worry though because their Nana in the States hooked them up big time for Christmas. First of all, they're keeping warm *and* stylish in their brand new sherpa jackets:
And they've had plenty to play with as well, including these adorable squeaky snowmen.
Indeed, this was a common scene around here over the past couple weeks.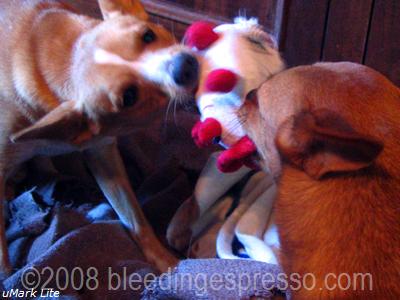 But the snowmen have since surrendered.
23 Beans of Wisdom to "What's New with the Doggies"
---