***THIS CONTEST IS OVER***
So here we are for Round Two of the Dolce Italiano Contest in which you can win a personalized, signed copy of Dolce Italiano by Gina DePalma by commenting on any and all of the Dolce Italiano recipe posts across five blogs.
So far, we've had:
Mosaic Biscotti & Sicilian Pistachio Cookies, Sara's Ms Adventures in Italy
Chocolate Kisses & Cassata alla Siciliana, Ilva's Lucullian Delights
Ricotta Pound Cake, Here!
Chestnut Brownies, Shelley's At Home in Rome
Chocolate Salami, Jenn's The Leftover Queen
Be sure to comment by 11:59 p.m. PST on Friday, December 7!
Now I bet you were expecting another cake, perhaps a cookie, a tart, or even a fritter here today? With a name like Dolce Italiano, you might think that Gina DePalma's book is only for expert bakers or at least those with a mean sweet tooth, but that's certainly not the case.
There are also plenty of other recipes to keep everyone happy, including crackers, breadsticks, ice creams, and as you'll see today, even an omelet.
For my second Dolce Italiano recipe and this week's What's Cooking Wednesday, I wanted to choose something to show you just how varied this cookbook really is — and how you can find something to make from what you may already have at home — so here's the Sweet Apple Omelet, or as I like to call it, How to Eat Apple Pie for Breakfast Without Feeling Guilty.
What do I mean by that? Well we all know that the best part of an apple pie is the filling, so here we have that filling tucked inside a perfectly respectable omelet–and the results are spectacular!
As Gina mentions in the book, you don't need to limit this one to breakfast or brunch though. Indeed, I had a sweet apple omelet for dinner the other night; I always was rather fond of breakfast for dinner. I also think the sweet apple omelet would be great in a huge brunch spread–something a little more fancy than scrambled eggs, as much as I love them.
So will I be making this again? Absolutely. This a fast, easy, and delicious recipe that takes something ordinary like an omelet and makes it a special treat. You can easily make it a little healthier by using only egg whites, less/no butter, less sugar (or substitute)…and why not experiment with other fruits and jams as the filling?
Now who doesn't love a recipe as easy, tasty, and versatile as this?
Sweet Apple Omelet
(condensed from Gina DePalma's Dolce Italiano)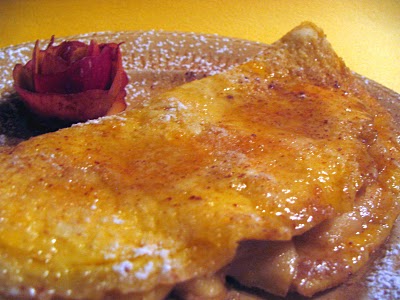 2 medium Golden Delicious, Rome, or Empire apples
3 tbl extra-virgin olive oil
2 tbl granulated sugar
1/4 tsp ground cinnamon
1 tbl grappa*
2 tbl unsalted butter
1 tbl honey
4-5 large eggs
Confectioner's sugar for dusting
*Note: I didn't use grappa for two main reasons. The first is that I really don't like grappa so I don't have any in the house; the second is that my stomach is just recovering from a nasty virus, and I didn't think I could even handle the smell. If you'd like instructions on how to incorporate the grappa I suppose you'll just have to buy the book (or keep your fingers crossed that you'll win a copy–be sure to comment)!
1. Peel and core apples, cut them into quarters, then into slices. If you'd like to make a pretty flower to garnish like in the picture above, peel the skin with a sharp knife beginning at the top of the apple in one continuous strip, as demonstrated here and then roll it up and set it on the plate. Thanks Meredith!
2. Heat a large saucepan over medium and add olive oil, followed by apples. Sauté until they just begin to turn soft, translucent, and tender, about 5 minutes. Add sugar and cinnamon, shaking to coat apples. When apples are completely tender, remove from heat and set aside.
3. In a small saucepan, melt 1 tablespoon of butter over low heat; don't let it bubble. Add honey and swirl the pan so they combine thoroughly. Remove from heat and set aside. Prepare a serving plate dusted with confectioner's sugar.
4. Crack eggs into medium bowl and whisk until combined. In a nonstick 10-inch omelet pan, melt remaining 1 tablespoon of butter over medium heat, swirling it around to coat bottom of pan completely. When butter begins to bubble, add eggs.
5. Use a fork or spatula to pull any cooked egg toward the center of the pan while tilting so that any uncooked egg moves to the edges. Continue moving eggs around until they are cooked, 2 to 3 minutes.
6. Very quickly, spoon some of the cooked apples into the center of the omelet in a straight line spanning the diameter of the omelet. Shake pan to loosen the omelet completely, then fold one side of omelet over apples.
7. Quickly slide the omelet onto the sugar-dusted serving plate, folding it over on top of itself with the edge of the pan or a spatula. Immediately drizzle the warm honey-butter mixture evenly over the surface of the omelet, and dust with confectioner's sugar (I also sprinkled a little more cinnamon).
8. Serve immediately, cutting the omelet into 2 large halves or 4 smaller quarters.
I did it in halves, and was plenty full after my half. Yum!
Buon appetito!
85 Beans of Wisdom to "Sweet Apple Omelet from Gina DePalma's Dolce Italiano"
---