It's about that time when melanzane (eggplants or aubergines) are everywhere I look, so I'm passing along one of my favorite ways to prepare them.
I'm not going to lie to you. I would never have even attempted to do anything with eggplant when I lived in America. I just wasn't brought up with it, although maybe I had it once in an eggplant parmesan or something. Obviously it didn't leave much of an impression if I did.
Now I'll eat these pretty purple fruits any way imaginable: grilled, in a sauce, baked, or as today's What's Cooking Wednesday, stuffed.
The eggplant is a member of the nightshade family closely related to the tomato, and just like its red, juicy, fruit of a cousin, it, too, was at one time considered poisonous. In fact, the Italian name "melanzana" is said to come from the Latin "mela insana," or poisonous (literally unhealthy) apple.
The eggplant isn't native to these parts, though, as it originated in India and arrived in Italy with the Arabs during the Middle Ages. Since then, Calabrians have been throwing them in just about every dish imaginable–always with delicious results.
One of my very favorite things that P's mom makes is melanzane ripiene aka mulingiana chjina round these parts, and as P will be the first to tell you, the traditional, old school Calabrese way is decidedly *without* meat, so that's what we'll be doing today. Also, frying is the usual method around here, although of course you can also make these baked.
Evviva la Calabria!
Stuffed Eggplant
(Melanzane Ripiene)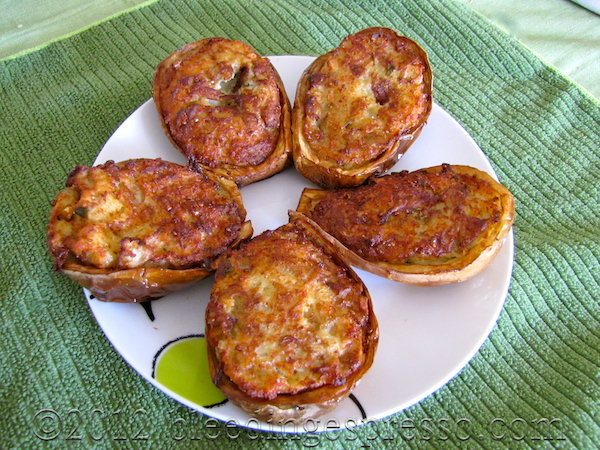 8 small (size of your hand or smaller) eggplants
A big loaf of crusty Italian bread
Unseasoned breadcrumbs as needed (so mixture isn't too wet)
3/4 cup grated parmigiano cheese
2 eggs
1 large clove garlic, minced
a few leaves of basil
salt to taste
oil for frying

1. Wash and dry eggplants and cut them in half length-wise. Spoon out the flesh being careful not to come too close to the skin, in fact leaving about 1/8 inch of flesh attached to it. Put aside flesh as you'll need it in a bit.
2. Boil the skins for about 5 minutes until just tender and transfer to strainer. After a few minutes, place skins on paper towels, open-side down, until ready to use again.
3. Meanwhile, chop the flesh of the eggplant into very small pieces and then boil for about 5 minutes, also until tender. Transfer to strainer, and be sure to squeeze out excess water.
4. With that big loaf of crusty bread, you need to scoop out the centers and break it up into little pieces; many people will just use breadcrumbs instead of the actual bread, but this is one of the greatest secrets of excellent stuffed eggplant. Use the bread instead. Use as much of the bread as you need to hold the filling together without it being overly moist. If you need to dry it out a bit, you can also use dry breadcrumbs as noted in the ingredients.
5. In a large mixing bowl, put breadcrumbs, cheese, eggs, garlic, basil, and salt with the eggplant flesh and mix well. Try a little bit of the mix to make sure the seasoning, especially salt, is OK.
6. Take the eggplant shells and poke gently with a fork in a few spots; P's mom says so this is so the eggplants don't explode while frying. I'd rather not see that happen, so I do it too.
7. Salt the eggplant shells and then fill them with the mixture. FYI, you want the filling so that it's fairly level with the shell, a little domed on the top.
8. Heat up about an inch of your favorite frying oil (P's mom uses olive oil but vegetable would work too). Once hot, put the eggplants in stuffing-side up. Fry for about 5 minutes or until golden brown, flip, and then fry the other side for a few minutes as well.
9. Remove from oil and drain on paper towels.
At this point, you can put these in a tomato-based sauce if you like, but we like to just eat them this way–and usually with our hands like good old-fashioned street food, only at home.
It's a lot of work to be sure, but it's *so* worth it.
Buon appetito!
36 Beans of Wisdom to "Calabrian Stuffed Eggplant – Melanzane Ripiene"
---