I've been holding in this news since late on August 31st, when I found out that we would be having a new addition to the family:
(A web cam photo is better than nothing, right?)
Yes, it's another one with four legs, and her name is Stella. That's "star" in Italian. Get it? Luna="moon." We're so celestial.
So does Stella look familiar? Just in case you forgot (how could you?), here's Luna: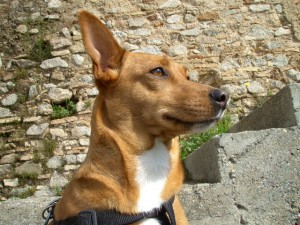 Well our mini-Luna seems to have been abandoned by some vacationers. For those who don't know, it's quite common for Italy to experience a dramatic increase in stray dogs around holiday time–some people just can't be bothered lugging their pets around or making proper arrangements for them apparently.
Disgusting, I know.
Anyway, aside from the fact that I can't comprehend why someone would leave their dog at all, I really don't get why they'd let this cutie loose at the end of holiday. But she was found by the side of the road with a collar, so it seems that's what happened.
P got suckered in pretty darn quick when he saw the Lun-essence, and although I didn't really *want* another doggie around, she's warmed my heart too. She's quite sweet, very lovable, and look at those ears!
Even Luna has taken to her, although Stella is sometimes still a reluctant playmate. She's a bit skittish, understandably, and has huge separation anxiety. At first she wouldn't let P out of her sight, but she's doing a bit better on that front. And she has also learned to sit (most of the time) and give me her paw (all the time where food is involved).
And if you're wondering about how big sister Luna is adjusting, I have to say that she's been really great through all of this; Luna's normally pretty aggressive toward other females, but within the first 24 hours of Stella's arrival, Luna was ready, coaxing her to roughhouse a bit. So cute!
I can't help but feel like a proud doggie mama who did something right in the last two years. You think that's overstating it a tad?
I just can't wait for the day when they're snuggled up together so I can snap a photo. I'm confident that day will come.
It's just a matter of time.
Benvenuta Stella Bella &
Happy Love Thursday everyone!
P.S. Remember that today we're on Spaghetti Strike! Read more here.
58 Beans of Wisdom to "And Baby Makes Four!"
---