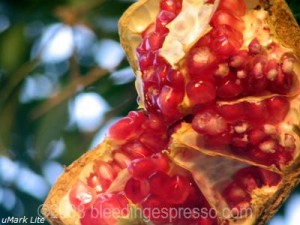 Remember when we were talking about pomegranates a while back? Well I've enjoyed many more since then, and I hope you have too.
By chance, have you been playing around with pomegranate recipes?
If so, you're in luck.
I've received word that POM Wonderful, the, ahem, wonderful pomegranate company out of California, is sponsoring a contest:
Attention Recipe Gurus & Pomegranate Lovers:
POM Wonderful Invites You To Share Your Pomegranate Recipes
Who is POM Wonderful?
POM Wonderful is the largest producer of California Wonderful pomegranates, which the company exclusively grows and sells. The company also juices its fresh pomegranates to make its delicious, all-natural, POM Wonderful 100% Pomegranate Juice.  POM Wonderful 100% Pomegranate Juice and POM Tea are available year-round at retail and are found in the refrigerated section of supermarkets and grocery stores nationwide.
What are we asking?
We are inviting bloggers everywhere to submit their favorite original pomegranate recipes for a chance to be a featured blogger for POM Wonderful and enjoy the $5000 prize. To enter, visit www.pomfresh.com/recipe
What's the Catch?
The recipe must be an original and include fresh pomegranates. The winner will submit twelve (12) monthly blog submissions as the POM Wonderful featured blogger.
What's in it for you?
$5,000 prize-enough said
Exposure on the POM Wonderful blog
Who is Eligible to Participate?
This opportunity is open to everyone.
Please feel free to pass this invite along to your friends, family and any fellow pomegranate lovers who may be interested. Rules and guidelines will also be available here http://www.pomfresh.com/rules/
When do we get started?
The POM Wonderful Recipe Contest begins at 12:01 AM Pacific Time on October 22, 2008 and ends at 11:59 PM Pacific Time on November 30, 2008.
Who do I contact if I have questions?
My-lan Beauford at mylanb@fanscape.com
Best of luck pomegranate lovers!
15 Beans of Wisdom to "POM wonderful contest announcement"
---