Archive for the 'washington DC' Category
When my mom and I went to Washington, D.C. last year at this time, we went on a bus tour through a local company; part of the scheduled day was to be spent at the United States Botanic Garden.
To be honest, I wasn't too thrilled about it — how interesting could that possibly be when there was so much else in D.C. that I wanted to see? But it was a rainy, cold, gloomy day, so a little inside time was rather welcome.
As it turned out, this was one of the most impressive, awe-inspiring, festive, gorgeous parts of our day. The annual Seasons Greetings exhibit features "Washington landmark buildings all created with plant materials set amidst pathways and pools of blooming poinsettias and other holiday plants (emphasis added)." ALL of what you are about to see was created with plant materials. Simply amazing.
There was also a special section for children and the young at heart; the exhibit had a decidedly different feel, but again, everything was made with plant materials.
See lots more photos of the Botanical Garden on my Washington, D.C. Flickr set.
This year's exhibit will be up until January 2,
so there's something else you can do in D.C. besides just visiting Union Station.
---
For 14 years counting, the Royal Norwegian Embassy and the people of Norway have given Washington, D.C. officials a 30-foot tree that holds some 8,000 lights and added a decidedly Scandinavian flair to an already gorgeous train station.
Read on...
---
As many of you know, I was back in the US from mid-November to late December. This was my first trip "home" since February 2004.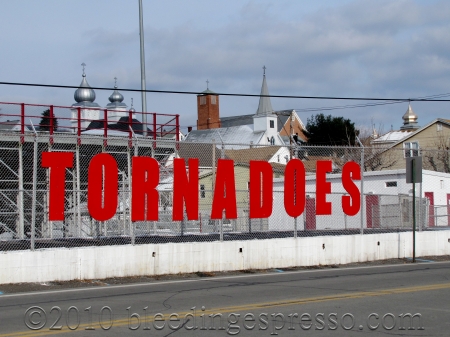 Yes I write it in quotes; as much fun as I had there, you see, I was also extremely excited and happy to get back to P, the pooches,
and the three kids (who, incidentally, we believe may all be pregnant!).
Stateside, I spent lots of time with family and friends, visited Philadelphia, New York City (where I met two online friends for the first time and met up with an old college friend–none of whom are shown in the photo below!)
and Washington DC,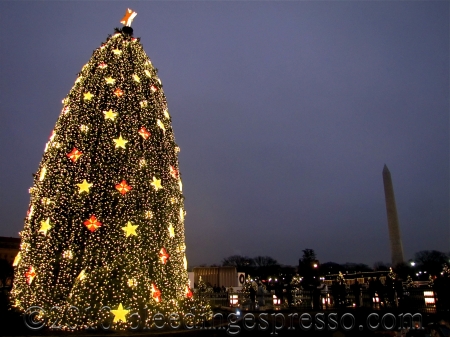 helped my mom make cookies (which she sells for Christmas),
and shopped. A lot. The Christmastime prices in American malls? Worth the price of the airline ticket, quite frankly.
For instance, P was amazed that I could get him a pair of Levi's for $30 (€21) when they cost, oh five times that here. My other spectacular purchases for myself include a new iPod Touch (to make it easier to read English language books, mainly) and a new external hard drive.
NB: Anything technological/electronic costs *way* less in America than it does in Italy.
My biggest culture shock actually came very early on in the trip when I couldn't. stop. speaking. Italian. It was the weirdest thing! On the plane over, no matter what language the person addressing me was speaking, I would answer in Italian…and only sometimes catch that I had done it–once purely by the blank look on a fellow passenger's face.
The two hardest things to stop saying were "Ciao!," "Grazie!," and "Sì!" So I imagine I just looked like a really pretentious American for at least the first few days of the trip. Oh well.
The other thing that was hard to get used to? Things being open in the afternoon. So strange to be able to go shopping or *gasp* get something to eat between one and four! Lovely.
I still have lots of photos to go through and post on Flickr (and possibly here), and probably a lot of mental processing of the whole experience. Soon I'll be publishing my Top 10 Realizations After Being "Home" for the First Time in Nearly Six Years so please check back!
---
---