Archive for the 'milano' Category
The title of this post, "What to do in Milan," is the exact search I typed into Google several weeks ago. I was planning a trip north to see Sara of Ms Adventures in Italy and Diana of A Certain Simplicity and Piemontescapes and would have one day in Milan — and I didn't want to miss anything huge.
It turns out that the best online resource for what to do in Milan can be found on fellow Eye on Italy podcast host's Jessica's Why Go Italy, so do have a look there if you're headed to Milan yourself. You can also find and book Milan hotels through EasytoBook.com if you're not lucky enough to score a spot on Sara's pull-out couch. But back to the sightseeing.
I'm sorry to say I did miss out on The Last Supper (you need to book ahead, and although it's often booked for months in advance there were actually available spots for the day *after* I was leaving Milan), but I think I packed a lot into my day in Milan thanks to Sara, including a luncheon at the Obikà mozzarella bar next to the Duomo with several people I hadn't yet met in person.
It was truly a wonderful 10 or so hours in Milan despite the snow and rain, which did subside for some golden sunshine later in the day.
All in all, an action-packed jaunt around this bustling northern Italy city, which to be honest felt more American than any Italian location I've been. Visiting cities is always sensory overload for me, so I'd love to go back with more time to just soak in more of the atmosphere and see if my first impressions hold true. For now, though, there are more photos in my Milano Flickr set — and lots more tales to tell behind the photos as well. Stay tuned!
Have you been to Milan? What do you recommend first-time visitors see and do?
---
I'm sorry to say I didn't notice which exact street these hearts were on, so if you're ever in Milan, you'll just have to wander around until you find it:
I do remember they were in the general vicinity of the Pinacoteca di Brera gallery (more photos and info coming), and indeed the time stamps on my photos tell me it was about a six-minute walk from those hearts to the museum.
The Pinacoteca di Brera, by the way, is one of the fabulous museums you can visit through the AmaMi card, which gives you discounts at nearly 20 museums, various stores, and cultural events as well as free transport on the metro: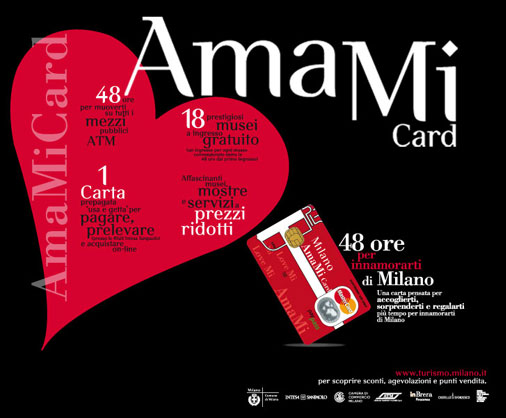 And it fits so well with Love Thursday to boot!
As the website says: "AmaMi card: 25 euros and 48 hours to fall in love with Milano."
Happy Love Thursday!
---
---