Archive for the 'lara dunston' Category
Welcome to the first day of our Q and A with Travel Writer Lara Dunston!
Remember that I'm giving away FIVE copies of Lara and Terry Carter's new guidebook, Travellers Calabria. See details here, but essentially you can comment every day this week for a chance to win Lara and Terry's book.
And don't forget to go back and comment on yesterday's post for a chance to win a Calabrian CD by the group Marasà.
Now, my first two questions to Lara (all photos provided by Lara and Terry):
1. OK, let's start close to home. What was your favorite part about writing the Calabrian guidebook?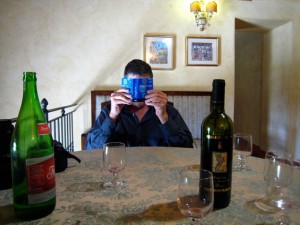 The research trip around Calabria was fantastic. I write with my husband Terry Carter [pictured right, learning Italian after a bit of wine, always the best time to learn], who is a travel photographer and we did a month-long road trip around the region for this book and just loved it! Terry was shooting photos for the book, and when he's doing photography for a book we tend to meet more people, because we're not undercover as we might be if we were just writing.
The research trip is the best part of any book commission for me. The actual writing can be monotonous although it can be wonderful in the sense that we re-visit the places in our imagination as we write about them, and re-live the trip in a way.
But we're tied to desks writing for 15-18 hours a day seven days a week for a month or two, which can get hard to handle – and for Terry, he's also selecting photos and photo-editing. When we're doing the research, we get to drive through spectacular landscapes (especially in the case of Calabria), explore charming towns (ditto!), learn about the history, culture and society, and get to meet fascinating people along the way.
Before we did the Calabria book, we'd spent a lot of time in Italy over the years, travelled all over, and had driven all over Sicily, but the furthest south we'd ever been on the mainland was the Amalfi.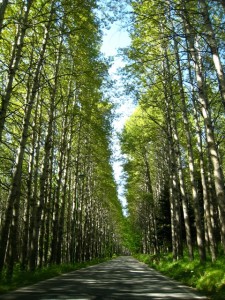 Calabria is very different to the rest of Italy and we just loved it. We thoroughly enjoyed the countryside, especially the tortuous drives through spectacular mountain scenery.
We were there in spring and the wildflowers were beautiful, everything was lush and green, the air was fragrant – we loved the Sila and Aspromonte National Park [left] especially, and we adored all those charming hilltop towns that seem to tumble down mountainsides or are perched precariously atop cliffs, like Tropea [photo of beach below], Pizzo, Morano Calabro and Amantea. They're all so enchanting…
We particularly enjoyed the food – the spices, the peperoncino, all the fresh seafood –we had some incredible gastronomic experiences that we didn't expect to have. There was one particularly memorable meal near Camigliatello at La Tavernetta where we had a degustation menu that revolved around mushrooms that had just been picked. My god! I know a bit about food and have eaten in thousands of restaurants obviously, but I'd never tasted mushrooms this good before or realized they could be done in so many ways.
The company was pretty special that night too – we were taken to the restaurant by a Baron and Baroness – and our accommodation was equally memorable – their hunting lodge, Torre Camigliati, which is now a B&B.
When we were in Amantea we stayed at the splendid Palazzo delle Clarisse [right] (more like a castle than a palace!) – in a suite that Queens had stayed in! – and we savored some of the most creative and refined cuisine we've had in Italy at their restaurant.
That night we also dined with the owner, a fascinating and charming guy, a former Italian politician who now writes magical realist novels, and his friend, who produces some of Italy's finest award-winning olive oil.
We had another stupendous meal at Il Fiore del Cappero in Reggio Calabria – I think that was the same day I zipped around Reggio on the back of a Vespa doing inspections of B&Bs! Don't ask… so sometimes the pleasure of research is as much about the people you meet along the way as it is the places you go to.
2. You've been all around the world, so please share: what is your favorite travel destination and why?
There are so many wonderful places in this world that I find it impossible to pick one. I don't have one favorite place. Nor does Terry. I guess if we did, we'd be living in one place instead of living out of our suitcases and travelling the world like gypsies!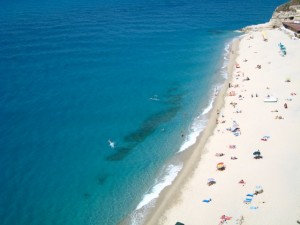 Rather, I have different destinations for different moods or seasons or activities… I love springtime anywhere in the Mediterranean or in the Middle East, winter anywhere in the Alps but particularly Northern Italy and Switzerland and Austria, while I also love winter in the outback in Australia (nothing compares to the clarity of light).
Summer in San Sebastian, Spain, is pretty special, also Scandinavia, and anywhere in Italy – as crowded as it can get, there's a real buzz about summer – especially in Calabria where everyone gets out in the evenings and does the passeggiata.
And I'm happy in Thailand any time, ditto re: South America.
Wow, what a fabulous start to the Q and A, Lara! Thanks!
Be sure to leave your comment and tweet or post to Facebook to maximize your chances of winning a copy of Travellers Calabria! See contest details here.
---
Starting today and continuing until Friday, July 10,  we're celebrating the fact that lil' ole Calabria *finally* has a fabulous guidebook dedicated to her:
Travellers Calabria by Lara Dunston and Terry Carter
All this week, Lara will be here answering my questions and sharing Terry's and her gorgeous photos of bella Calabria.
If you want to start getting acquainted with this dynamic duo now:
Lara

describes herself as a "perpetual globetrotter (60+countries) travel writer (40+books, 100s stories for world's best publishers) living out of a suitcase since Jan 06"

on Twitter (follow @laradunston) and blogs at Cool Travel Guide.
Terry is "a travel and editorial photographer and travel writer. He literally lives out of a suitcase accompanied by a couple of bags of photography gear." Follow him @terencecarter on Twitter and read his blog at Wide angles, wine and wanderlust.
And you don't want to miss a single day of the Q and A with Travel Writer Lara Dunston. Why not?
Because I will be giving away a copy of Travellers Calabria every day–that's FIVE copies total.
Comment once on each post from Monday to Friday to be entered in the drawings; I will pick one winner from Monday's comments, one from Tuesday's, etc., and I will announce all the winners next Saturday. All comments must be entered by midnight CET on Friday, July 10.

For extra entries (one per day per person except as below), tweet or post about the contest on Facebook with a link to any one of the contest posts (although preferably this one since it will be the only one with all the rules) AND EMAIL ME TO LET ME KNOW at:

michellefabio5 (at) gmail (dot) com

I will enter your extra entry in the day in which you tweet/post appears, except for today; any tweets/posts today will be entered in the drawing that ends up with the fewest number of entries–which means you can get six extra entries if you tweet/post today and every day of the contest.

In the event you're lucky enough to win two (or more) copies, you will have the choice of accepting all your winnings or having me pick another winner.

Any questions–feel free to ask!
And what's a party without music?
Kicking things off is a new CD by my friend Mimmo's band, Marasà. You may remember Mimmo from our New Year's Eve celebration and discussion of the chitarra battente.
Well his band is back with their second CD, Sentéri: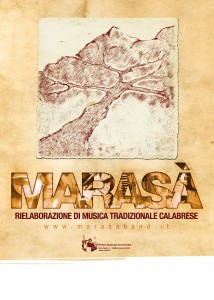 This is Calabrese folk music with a twist–a famous Italian rock star (who happens to have a house in Badolato Superiore) even guests on the CD.
The songs are sung in local dialect, but the liner notes have the lyrics in both Italian and Calabrese; if you're interested in a copy of the lyrics, let me know, and I'll send you the PDF.
Curious as to what it sounds like?
Head over to Offma, where you can also buy your own copy for 12 euros, or to Marasà's MySpace page, where you can listen to samples and also, for those of you who will be in southern Italy over next couple months, where you can catch them live in concert–they're kicking the summer tour off tonight right here in Badolato Superiore. Lucky us!
And, aw heck, since I'm feeling generous, I'll even give away a copy of the new Marasà CD to a lucky commenter. To be eligible, comment on THIS post by midnight CET on Friday, July 10.

Viva la Calabria!

---
---