** Please note this giveaway has ended. **
Over the summer, I published my ebook, 52 Things to See & Do in Calabria — a true labor of love intended to entice readers to visit the toe of the boot and give those who already love this area as much as I do a little more information in English.
Thank you, thank you to those of you who have purchased a copy and have given me great feedback.
More positive Amazon reviews are always appreciated as they are the best way for an author to spread the word!
Many of you have asked about a printed copy, and since there has been such a demand and because I would love to hold this book in my hands too, that is one of my winter projects. Image quality for print books must be a lot higher than for ebooks, so this is the main reason a print copy isn't available yet, but I shall do my best.
In other book news:
I have lowered the price on the ebook to $2.99, which will be the lowest it will ever be and will be in place throughout the holiday season (until January 6, the Epiphany).
And now, the free stuff:
You also have the chance to win one of three copies I will send to the winners of this giveaway. You can earn up to five entries per person:
Comment here OR on Facebook (1 entry).
Like the Bleeding Espresso Facebook page (1 entry).
Follow michellefabio on Instagram (1 entry).
Follow michellefabio on Twitter (1 entry).
Share this post on Facebook or Twitter (1 entry).
If you already like Bleeding Espresso or follow me on Twitter or Instagram, just tell me that in a comment and you get the extra entries too.
Giveaway is open internationally and ends on December 27 at midnight Italy time.
** Please note this giveaway has ended. **
*******
And finally, unrelated to book giveaway, if you feel like it, vote!
I am incredibly honored to once again be nominated for Italy Magazine's Blogger Awards in the category of "Best Living in Italy Blog."
If you'd like to throw a vote my way, I'd very much appreciate it!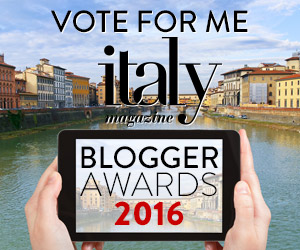 Happiest of holidays to you and yours!
10 Beans of Wisdom to "Book Giveaway: 52 Things to See & Do in Calabria"
---