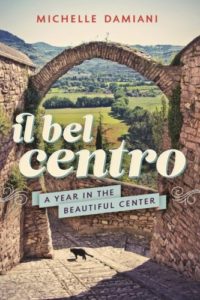 Written in a journal format that traces Damiani's journey nearly day by day, Il Bel Centro: A Year in the Beautiful Center provides a rare glimpse into a transplanted family's sojourn in Italy.
To fulfill a lifelong dream, Michelle Damiani moved her husband, three school-aged children, and two cats to Spello, Umbria in central Italy to live for a year.
"I have misplaced the dream, along with my children who are around somewhere, and my cats probably hiding under the bed. And yet tomorrow we leave. Italy is waiting. Hopefully Italy won't mind that I still haven't found a chance to shower."
Although she found a community ready to embrace her family, Damiani also encountered several stumbling blocks, including language difficulties, bureaucracy, and differing educational philosophies.
Damiani opens up and shows incredible vulnerability within these pages, and parents will especially appreciate her concerns and frustrations as a mother attempting to guide and nurture her children through this life-changing time. Her descriptions of the people, customs, and food of Umbria are particularly enticing.
If you can't get yourself to Italy for an extended stay, Il Bel Centro is a worthy substitute. Highly recommended.
5 espresso cups out of 5.
** A version of this review originally appeared in the Spring 2016 issue of Ambassador, the magazine of the National Italian American Foundation (NIAF). I was given a review copy by the author in exchange for an honest review. **
---