I've been trying to get a post up here for months now. I've started a few, but it just hasn't happened as I've struggled with how to express the whirlwind we've been experiencing here from my miscarriage last spring to where we are now.
So let's just get this out there once and for all and save the deeper post for another day:
This was Baby Fabio a.k.a. Zee Bean at a wee 10 weeks back in March: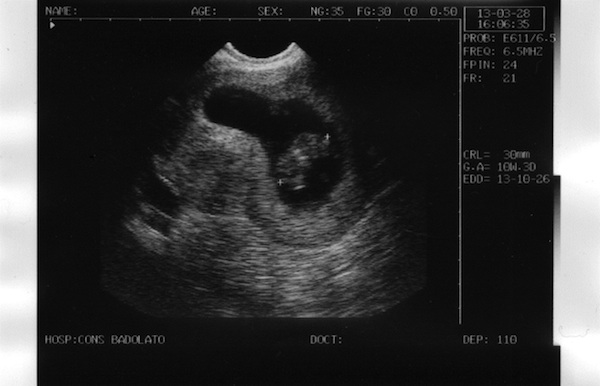 It's probably the cutest ultrasound photo we have of him/her — the machines here in my local hospital are leaving something to be desired so far as getting good images to share — no super cute face photos and the like, and certainly no 3-D! Also, this photo is clearly the origin of Zee Bean's nickname.
And notice that "him/her?" That's because Zee Bean hasn't been cooperative in turning the "right" way for us to get a good look at, well, the goods . . . so we're still looking at a surprise on D-Day at this point (though we may still find out the sex in a subsequent ultrasound during these last several weeks of the pregnancy).
Without going into too much detail on my horrible first trimester (well, four months, but who's counting?!), I'll just say I've been feeling pretty darn good throughout the pregnancy since then. Sure, I have had nasty heartburn since the nausea stopped and now, with the heat, some feet-swelling from time to time, but overall, I'm feeling *very* lucky to be having a fairly uneventful pregnancy.
I also feel quite fortunate that despite two nasty heat waves, this Calabrian summer has been one of the mildest in many years. We even had rain the other day, which is virtually unheard of in August around here. It's still rather warm, of course, but manageable with fans, cool cloths, cool foot soaks and showers, etc., so grazie mille, pregnancy gods on that one!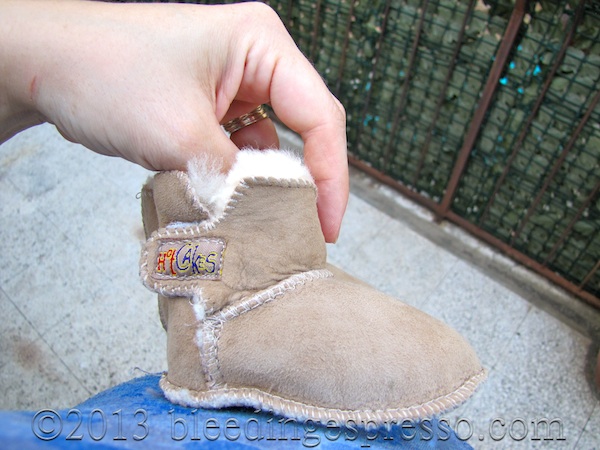 I can honestly say at this point that I lovelovelove being pregnant — and if you had told me during my first four months that I'd end up saying that , I'd probably have slapped you. Literally. Oh, hormones!
We are looking at a late October due date, so I'm nearing the 30-week mark now, which means we're spending lots of time getting things ready for the arrival of Zee Bean as well as enjoying our last several weeks as a twosome. Needless to say, we're getting very excited to meet the little one who is about to change our lives a gazillion times over.
What does this mean for Bleeding Espresso? Well, your guess is as good as mine, but your best bet to keep up with me is to like the Bleeding Espresso Facebook page — I anticipate continuing to post there much more often than here at least in the short-term. And of course you can always contact me via email or contact form.
For now, I want to thank you all so much for being faithful readers and for all your support over the years! I hope to be back writing here in some capacity in the future, but I make no promises as to frequency or even content as I simply can't know what my thoughts will be like once I'm knee-deep in the wonderful adventure of motherhood. Though I can't wait to find out.
Buon Ferragosto a tutti!
74 Beans of Wisdom to "New Beginnings and Such"
---