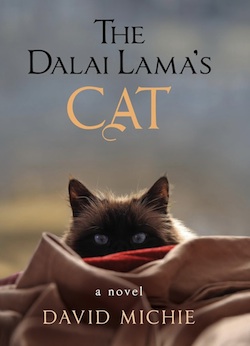 Over the weekend, I devoured a new book I got to review from Hay House Visions, The Dalai Lama's Cat by David Michie. I loved it so much I had to write this review immediately; I simply couldn't hold in my enthusiasm any longer.
The Dalai Lama's Cat is written from the perspective of a (self-described) gorgeous Himalayan who was rescued by the Dalai Lama's staff and who spends copious amounts of time around His Holiness and those closest to him.
As you might imagine, "Bodhi catva" is privy to many spiritually intense conversations, and not only does she recount some the most important nuggets of Buddhism, she also applies the principles to her own life as she continues to strive to live up to her title of HHC (His Holiness's Cat). We also get a clue into the feline mind on issues such as playing the cello, "as we cats refer to that most delicate part of our grooming regimen when we attend to our nether regions."
Yes, there's a good dose of humor throughout the book as well.
I love me some anthropomorphism, and Michie pulls this off brilliantly. Both the premise and the writing are sharp, snappy, and clever; the story is warm and fulfilling. The lessons in Buddhist principles are an added, wonderful bonus because Michie, an established authority on Buddhism, not only shares them but also illustrates them in lighthearted, everyday situations to which anyone can relate.
I highlighted so many bits in my Kindle version, but one I want to leave you with is this, just in case the idea of reading a book about Buddhism, or any religion, puts you off:
The purpose of Buddhism is not to convert people. It is to give them tools so they can create greater happiness. So they can be happier Catholics, happier atheists, happier Buddhists.
Despite its deep topics, this book is an easy, enjoyable read; it reminds me a lot of Paolo Coelho's The Alchemist in that you can either fly through this for the story or stop at every page and think on what you've just read for hours, days, weeks, months, or years.
I highly, highly recommend this book to anyone who loves cats, is interested in learning more about mindfulness and other Buddhist principles, or who simply wants a great read. I couldn't love this book more, and I consider it an absolute must-read for 2012.
*
Subscribe to my Book Reviews feed — book reviews ONLY, which aren't published to the main feed — by visiting Feedburner.
** NOTE: I received a review copy of this book from NetGalley; the opinions expressed are my own. The link in the post above is an affiliate link, which means if you click on the link and purchase the item, I will receive an affiliate commission.
7 Beans of Wisdom to "The Dalai Lama's Cat by David Michie"
---