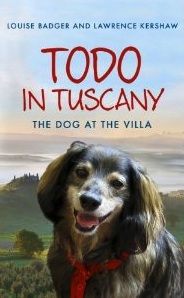 Todo in Tuscany: The Dog at the Villa by Louise Badger and Lawrence Kershaw is Under the Tuscan Sun meets Marley & Me, and if you love Italy, dogs, or both, this book is a must-read.
While house-searching in Italy, Badger and Kershaw first came across a villa in Lucca that otherwise wouldn't have sparked their fancy but for the charming little pooch who wouldn't leave their side as they toured the grounds. Todo's mistress, an American named Carol, had passed away two years previously, but Todo wasn't going anywhere.
And, as it turned out, neither were Badger and Kershaw, so completely charmed by Todo that they put in a bid immediately. As the couple started bridging their busy lives between England and Italy, they quickly discovered the challenges of refurbishing of a Tuscan villa from getting Internet service to fighting the glue that had been holding wallpaper snug for decades.
But it's the relationship between the house's new owners and a darling dog, uncannily aware of his surroundings and the emotions of those around him at all times, that makes this book truly special and not to be missed.
I give Todo in Tuscany four and a half espresso cups out of five:

and highly recommend it to anyone who enjoys heartwarming tales, especially those set in Italy.
And P.S. to Badger and Kershaw, just in case you are looking for another project: I would love a book from the perspective of Poggiolino (the villa), telling stories of Carol and her husband Jim, who seemed to have lived immensely interesting lives, of Todo as a pup and then an aging doggie, and the transition to the new owners.
*
PURCHASE INFORMATION
Todo in Tuscany won't be released in the United States until October 2012, but you can pre-order as well as follow Todo in Tuscany on Facebook and @todointuscany on Twitter. Readers in the UK/Europe can find Todo in Tuscany on Amazon.co.uk.
*
Subscribe to my Book Reviews feed — book reviews ONLY, which aren't published to the main feed — by visiting Feedburner.
** NOTE: I received a review copy of this book from the author; the opinions expressed are my own. The link in the post above is an affiliate link, which means if you click on the link and purchase the item, I will receive an affiliate commission.
16 Beans of Wisdom to "Todo in Tuscany by Louise Badger"
---