Seven and a half years ago, I leaped off a path that was leading me to a place I didn't want to go as a person I didn't want to become. I was living in a large American city armed with a law degree and a recently completed appellate judicial clerkship. The next logical, practical step was a position with a large law firm — or at least some well-paying attorney job.
The only problem was that years before, I had already stopped wanting the so-called American Dream — the bigger house, the bigger car, the bigger and more more more. Something about it just didn't feel right for me, and I needed to get far, far away from it. Literally.
Maybe by putting this physical distance between us, I was making sure I wouldn't somehow get sucked in by staying too close. Maybe I just needed a break after 21 consecutive years of schooling (out of my 25 total years). Whatever the reason, moving to my ancestors' village in southern Italy in 2003 made total sense to me. I came here knowing full well what I wanted to get away from.
What I didn't know, or at least I hadn't verbalized, was what I was searching for.
Over the past several months, I've been reading minimalist/lifestyle blogs such as Zen Habits, Rowdy Kittens, The Art of Non-Conformity, and Ridiculously Extraordinary, and with each post and "Aha!" moment, the realization has become clearer. The things they're writing about so beautifully? I've been living them for the past seven and a half years. It was simplicity I had been seeking, and I most certainly found it here.
Or, as I like to put it, "It's the simple, stupid."
Aside from work obligations, my life now revolves around what the humans need (mostly lunch and dinner) and what the animals need, not necessarily in that order. I shop at the market nearly every day for fresh ingredients, never keeping huge stockpiles of anything — not only because there's no Costco, but also because there's very little storage space in a typical Italian house. Everything is smaller in Italy (think opposite of Texas), so your refrigerator and freezer don't hold as much, your washer does what you used to think were half-loads, and your dryer? Well you probably don't even have a clothes dryer, but if you do, you use it sparingly because your bank account groans with each spin cycle.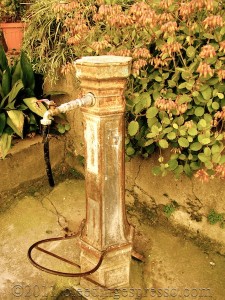 In fact, the scar from your first winter ENEL bill is still so fresh, you remember to turn the light off as you leave a room each and every time — and your late grandfather's voice echoes in your mind as you go around flicking off lights muttering something about not owning stock in the electric company. Actually, you pretty much only use artificial light before dawn and after dusk, and you also opt for natural air conditioning (open windows and balcony doors) and insulation (more layers of clothes and gratuitous snuggling).
And because in the height of summer, mountain springs dry up and pathetic ditches they call river beds suddenly appear roadside, your dishwater waters plants, and even then only when the sun isn't beating down and only when they absolutely need it.
You get creative about reusing everything you can from coffee grounds to plastic containers of all shapes and sizes; who knew those huge plastic jugs of American coffee sold in bulk (thanks Mom!) are absolutely perfect for scooping goat chow out of a feed bag?!
You learn that growing and raising much of your food is not only great for your wallet and waistline, it's also relaxing for your mind and spirit as you go about your daily chores; moreover, taking care of living things from birth to death whether it's a rabbit or a tomato plant reminds you to be present in each moment because life — for all of us — is fleeting.
Perhaps best of all, you truly, truly appreciate the small stuff — after all, most days, that's all you have. And it's plenty. Sure, trips to exotic locations make for good Bucket List filler, but have you ever watched a hen flipping and flopping around during her morning dirt bath? Nothing like it in the world, I tell you. Nothing.
Yes, it was always the simple, stupid. It's all I've ever wanted, and so much more.
55 Beans of Wisdom to "Life Lessons in Southern Italy: It's the Simple, Stupid"
---